Federal Judge Says Polygamy in Utah is Okay as Long You Don't Have More than One Marriage License
Tuesday, December 17, 2013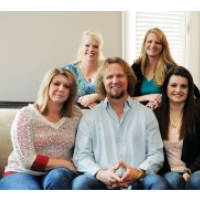 Kody Brown and his four wives (photo: Jerry Henkel, Las Vegas Review-Journal)
A federal judge in Utah has handed down a key ruling on the state's anti-polygamy law, saying plural families are legal as long as only one marriage license exists in the household.
The ruling by District Court Judge Clark Waddoups nullified key parts of Utah's polygamy law, following a legal challenge by the family of advertising salesman Kody Brown, who became famous in TLC's reality series "Sister Wives."
Waddoups said bigamy is illegal only if a family fraudulently acquires multiple marriage licenses. A family with one husband and multiple wives cannot be considered a violation of the law on its own. Brown has four wives, but is only legally married to his first wife, Meri.
The judge took exception to Utah's law making cohabitation illegal, ruling the phrase "or cohabits with another person" represented a violation of both the First and 14th amendments.
"The court finds the cohabitation prong of the Statute unconstitutional on numerous grounds and strikes it," Waddoups wrote.
He added that unlike the 19th century, when "religious cohabitation" in Utah could result in "multiple purportedly legal marriages," living together now doesn't equate to being married.
Waddoups also rejected the state's contention that, due to the nature of the polygamous arrangement, Brown was causing harm to his wives and 17 children. The judge said there would have to have been evidence of domestic abuse, child abuse, or failure to pay child support—none of which he found.
Those caught having fraudulent marriage licenses can face third-degree felony charges and up to five years in prison.
The case dates back to 2010, when the Utah County Attorney's Office and local police launched an investigation into whether the Browns—fundamentalist Mormons—were in violation of the bigamy statute. The Browns sued, contending that they were living under a threat of prosecution.
It is expected that the state of Utah will appeal the court's ruling.
-Noel Brinkerhoff, Danny Biederman
To Learn More:
The Utah Polygamy Ruling: Questions and Answers (by Jim Dalrymple II and Trent Nelson, Salt Lake Tribune)
Federal Judge Declares Utah Polygamy Law Unconstitutional (by Jim Dalrymple II, Salt Lake Tribune)