American Workers Clash with Homeland Security Dept. over Hiring of Spouses of Foreign Workers
Wednesday, April 29, 2015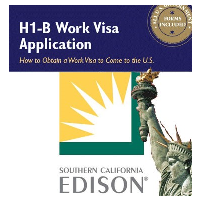 (photo illustration: Steve Straehley, AllGov)
A group of high-tech workers is suing the Department of Homeland Security (DHS) over its decision to grant visas to spouses of foreign workers, which has made it more difficult for Americans to find work, the plaintiffs claim.
The controversy centers around DHS' decision to offer H-4 visas to husbands and wives of foreign workers in the U.S. under the H-1B program.
A group of former Southern California Edison computer workers who were replaced by foreign workers on H-1B guest-worker visas banded together under the name Save Jobs USA. They filed suit in federal court contending the H-4 visa program violates
immigration laws and unfairly hurts them get new jobs. "The H-4 Rule is in excess of DHS authority and directly contradicts several provisions of the Immigration and Nationality Act," the lawsuit says. The utility forced the workers about to be laid off to train their foreign replacements in order to qualify for severance benefits.
DHS has said the H-4 program could add upwards of 179,600 new foreign workers to the U.S. workforce during the first year of its implementation. After that, the program could add 55,000 more each year.
"This is a slap in the face to the tens of millions of Americans suffering from unemployment and underemployment, especially those who are most vulnerable such as students, seniors, single mothers and minorities," Dale Wilcox of the Immigration Reform Law Institute, which is representing Save Jobs USA, told Courthouse News Service. "The law states that foreign work permits cannot adversely affect American wages, but all we've seen during this administration is standards of living fall and outsized corporate profits continue to rise."
The Economic Policy Institute calculated in 2013 that more than 80% of H-1B visa holders are hired at wages below those paid to American workers in comparable positions.
-Noel Brinkerhoff
To Learn More:
DHS Accused of Giving Tech Jobs to Guests (by Jamie Ross, Courthouse News Service)
Displaced Southern California Edison Workers Sue Obama Admin. Over Unilateral Visa Rule (by Caroline May, Breitbart)
Save Jobs USA v. Department of Homeland Security (U.S. District Court, District of Columbia) (pdf)
Program to Import "Needed" Tech Workers Displaces 400 Laid-Off SoCal Edison Workers (by Ken Broder, AllGov California)