Amazon under Increasing Fire from Authors over Alleged Monopolistic E-Book Tactics
Wednesday, October 01, 2014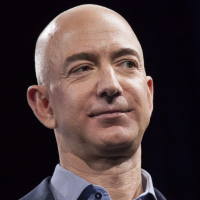 Amazon CEO Jeff Bezos (photo: David Ryder, Getty Images)
Hundreds of authors have banded together against Amazon in opposition to some of its business practices, particularly those involving the selling of e-books.
The list of about 300 writers, calling themselves Authors United, features some of the biggest names in the literary world, including Philip Roth, Orhan Pamuk, Salman Rushdie, V. S. Naipaul and Milan Kundera, according to The New York Times.
Additionally, the estates of Saul Bellow, Roberto Bolaño, Joseph Brodsky, William Burroughs, John Cheever, Allen Ginsberg, Norman Mailer, Arthur Miller and Hunter S. Thompson have joined the fight.
The effort began after the online retailer and book publisher began playing hardball in e-book price negotiations with publisher Hachette by limiting the availability of some of that publisher's books and not selling them at Amazon's usual discounts.
The group sent a letter to each member of Amazon's board of directors. The letter goes into some detail, but can be boiled down to one bold-faced phrase it contains: "Do you as an Amazon director approve of this policy of sanctioning books?"
The group isn't stopping with a pressure campaign against Amazon's board. It's also pushing the Department of Justice to investigate the Goliath for alleged monopoly tactics.
One member of Authors United, Ursula K. Le Guin, recipient of the 2014 Medal for Distinguished Contribution to American Letters, told the Times in an email: "We're talking about censorship: deliberately making a book hard or impossible to get, 'disappearing' an author."
"Governments use censorship for moral and political ends, justifiable or not. Amazon is using censorship to gain total market control so they can dictate to publishers what they can publish, to authors what they can write, to readers what they can buy. This is more than unjustifiable, it is intolerable," she added.
Amazon apparently knows which side its bread is buttered on though. One Hachette book in particular is readily available on the Amazon site—Wisconsin Republican Congressman Paul Ryan's The Way Forward.
-Noel Brinkerhoff, Steve Straehley
To Learn More:
Literary Lions Unite in Protest over Amazon's E-Book Tactics (by David Streitfeld, New York Times)
Hundreds of Authors Take On Amazon (by Jessica Goldstein, ThinkProgress)
Letter to Amazon.com, Inc. Board of Directors (Authors United)
German Authors Join Protest over Amazon's Tactics in E-Book Dispute (by Melissa Eddy, New York Times)
Is There a Market for "Used" Ebooks, Apps and Digital Music? (by Noel Brinkerhoff, AllGov)