Agriculture Industry Shows Alarm at House Bill Targeting Undocumented Immigrants
Wednesday, March 11, 2015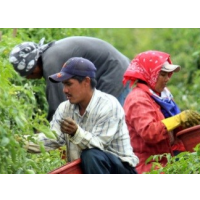 (AP photo)
Groups representing farmers across the United States have expressed serious concern about a House bill aimed at keeping undocumented immigrants from getting work in the country.
HR 1147 (pdf), which has passed the Republican-dominated House Judiciary Committee, would mandate that all American employers within three years to use the Department of Citizenship and Immigration Services' E-Verify program to ensure their employees are authorized to work in the U.S.
The proposal has organizations such as the American Farm Bureau Federation and the Agricultural Workforce Coalition (AWC) very nervous. The agricultural industry has long relied on immigrants, many of whom are undocumented, to pick crops, and Smith's legislation would force farmers to end this practice.
"The Legal Workforce Act turns off the jobs magnet that attracts so many illegal immigrants to the United States," Representative Lamar Smith (R-Texas), the bill's author, said. "The bill expands the E-Verify system and applies it to all U.S. employers."
AWC warned in a statement that "Imposing mandatory E-verify without fixing our country's broken immigration system will sound the death knell for thousands of farming operations across the country."
The group added: "The economic impacts of this will spread far beyond the farm gate as Americans working in industry sectors both upstream and downstream of the farm will see their jobs threatened."
AWC claims "each of the 2 million hired farm employees supports two to three fulltime American jobs in the food processing, transportation, farm equipment, marketing, retail, and other sectors."
The Farm Bureau urged that a guest worker program be instituted that would allow agricultural operations to hire a seasonal workforce composed of foreign workers.
-Noel Brinkerhoff
To Learn More:
Agriculture Groups Say Bill Would Disrupt Farming Operations, Decrease Food Production (Homeland Security News Wire)
Groups: Mandatory E-Verify Without Broader Immigration Reform Could Hurt Ag (by Janell Thomas, Farm Futures)
Farmers Fight Republican Immigration ID Plan (by Noel Brinkerhoff, AllGov)