After Public Outcry, Federal Govt. Promises Not to Act on Proposal to Slaughter 45,000 Horses
Monday, September 19, 2016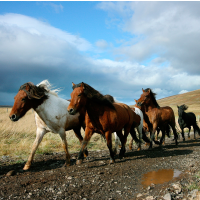 (photo: Getty)
By Niraj Chokshi, New York Times
Angry animal advocates can calm down: Tens of thousands of wild horses and donkeys will be spared the threat of an untimely death.
The federal government said this week that it will not consider a suggestion to euthanize the animals or sell them to slaughter.
The pronouncement, issued by the Bureau of Land Management, followed a public outcry over an advisory board's recommendation Friday that the agency kill or sell all of the 45,000 horses and donkeys in its custody that cannot be adopted.
In a statement and blog post in response, the Humane Society of the United States described the recommendation as "unhinged advice," "a complete abdication of responsibility" and "a sort of 'Final Solution.'"
An online petition has collected more than 118,000 signatures. But a spokesman for the bureau made clear in an interview that it had no plans to act on the advice.
"We're making no change in our current policy," the spokesman, Tom Gorey, said Thursday. "We're not going to sell to slaughter or put down healthy horses."
The bureau will reinforce its contention at the next meeting of the group that made the recommendation, the National Wild Horse and Burro Advisory Board. The recommendation was adopted by seven of its members, with one dissenting and another absent. It meets again in the spring.
The advice, however, puts into focus what some have described as a crisis for the program: The bureau takes in more and more animals as the population in the wild swells, using money that could be spent on dealing with population growth in the first place.
The federal agency houses more than 45,000 horses and burros in corrals, pastures or sanctuaries at a cost of more than $49 million annually.
In addition to the animals in captivity, there are more than 67,000 wild horses and burros roaming on federal land in the West, about 2.5 times the level the agency deems ideal for them to "thrive in balance with other public land resources and uses."
The imbalance is most severe in California, where the current population is 3.8 times the sustainable level, according to the bureau's estimates.
The agency takes more in each year, but it cannot keep up with explosive growth: The wild population expanded by 15 percent last year and 18 percent the year before.
While the agency adopts out thousands of animals each year and administers birth control to hundreds more, neither of these methods makes for a viable long-term solution to the population problem, Gorey said. The best hope is to improve birth control.
"What we need is a deus ex machina; we need a longer-lasting fertility-control agent and right now that's not to be seen," Gorey said.
Current methods last about a year.
In the meantime, he said, the agency will just have to do the best it can to keep the booming population down.
To Learn More:
Fed Program Faulted in Sale of Hundreds of Horses that Led to Their Slaughter (by Danny Biederman and Noel Brinkerhoff, AllGov)
USDA Moves Closer to Approving Horse Slaughter Plant in U.S. (by Matt Bewig, AllGov)
Meat Company Sues U.S. Government for Right to Open First New Horse Slaughterhouse in 6 Years (by Noel Brinkerhoff, AllGov)