Meat Company Sues U.S. Government for Right to Open First New Horse Slaughterhouse in 6 Years
Sunday, December 30, 2012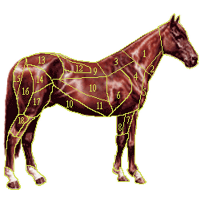 Tired of waiting for federal regulators to act, a New Mexico meat company has sued the U.S. Department of Agriculture (USDA) and others to reopen the business of horse slaughtering in the United States.
Congress outlawed horse slaughtering in 2007 after a long campaign by animal rights advocates to ban the practice. Lawmakers then changed their minds and again made it legal for American businesses to slaughter the animals.
But the USDA sat on the application of Valley Meat Company, according to its owner, who wants to add horse slaughter to his business to make up for lost revenues slaughtering cattle.
So Rick de los Santos, the company's owner, sued the agency, alleging federal officials ignored his application because horse slaughtering had become an emotional political issue.
"I've submitted all the paperwork and have been told all along 'Oh, it won't be long now,'" De los Santos told the Los Angeles Times. "I followed all their guidelines. I put more than $100,000 in upgrades and additions on my facilities to handle equine slaughter. And then the government comes back and tells me, 'We can't give you the permits. This horse issue has turned into a political game.'"
De los Santos is also suing The Humane Society of the United States, Front Range Equine Rescue and Animal Protection of New Mexico, claiming these groups defamed his business and caused it to lose money.
The last three domestic slaughterhouses in the U.S. closed in 2007. Since then, unwanted horses have been shipped to Mexico and Canada for slaughter. In 2012, 68,429 horses were shipped to Mexico and 64,652 to Canada.
Lawmakers in Washington decided to allow horse slaughtering again after they learned that the animals sent over the borders were subjected to horrible conditions that were documented by the Humane Society.
-Noel Brinkerhoff
To Learn More:
Meat Company Owner Sues USDA for Right to Slaughter Horses (by John M. Glionna, Los Angeles Times)
Slaughterhouse Owner Defends Plan to Butcher Horses (by Bill Whitaker, CBS This Morning)