ACLU Challenges Law that Outlaws Speech Causing "Mental Anguish"
Wednesday, January 14, 2015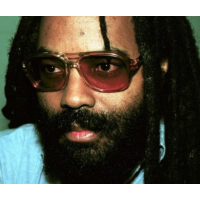 Mumia Abu-Jamal (photo: Lisa Terry, Getty Images)
A new Pennsylvania law has been challenged by the American Civil Liberties Union (ACLU) for trying to stifle the speech of those who cause "mental anguish" with their remarks.
Lawmakers adopted the Revictimization Relief Act (pdf) after Mumia Abu-Jamal, who was convicted of killing Philadelphia police officer Daniel Faulkner in 1981, delivered a recorded commencement address to students at Goddard College in Vermont, where he had attended college. Faulkner's widow said at the time that the speech was an "outrage," but there was no evidence she attended the address, nor was there any mention of the murder or Faulker's widow in the speech. Nonetheless, Republican state rep. Mike Vereb, a former police officer, proposed the legislation last Oct. 2, saying Abu-Jamal was continuing to traumatize Faulkner's widow. Gov. Tom Corbett (R), who lost a re-election bid a couple weeks later in a landslide, signed the bill an extraordinarily short amount of time later, on Oct. 21.
The ACLU of Pennsylvania contends the law amounts to a "Silencing Act" on free speech. "Laws designed to silence anyone, even people society may find disagreeable, are unconstitutional and bad for democracy," Reggie Shuford, executive director of the ACLU of Pennsylvania, said in a statement. "This law reaches broadly, and could prevent innocent prisoners from seeking clemency, journalists from using sources to expose prison abuse and formerly incarcerated persons from speaking publicly."
The ACLU was joined in the suit by journalists, news outlets and advocacy organizations, as well as four former convicts who fear the law will stifle their ability to speak publicly.
Abu-Jamal has become a cause célèbre for the right. President Barack Obama's nomination of Debo Adegbile to be head of the Justice Department's Civil Rights Division was blocked at least in part because Adegbile helped represent Abu-Jamal during his appeal.
-Noel Brinkerhoff, Steve Straehley
To Learn More:
ACLU Lawsuit: PA Law To Silence Offenders' Speech Violates First Amendment (by Andrew Staub, Pennsylvania Independent)
ACLU Calls PA 'Silencing Law' Prior Restraint (by Andrew Thompson, Courthouse News Service)
Goddard Commencement (pdf)
If It's Okay that John Roberts Defended a Mass Murderer, Why was Debo Adegbile Rejected by the Senate for Defending a Cop Killer? (by Steve Straehley, AllGov)