75% of U.S. Schools Use Surveillance Cameras; 70% Perform Campus Shooting Drills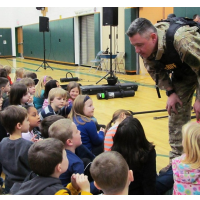 Security training session for school children (photo: Omar Ricardo Aquije, AP)
From Columbine to Sandy Hook, the many high-profile incidents of violence in U.S. public schools have changed the face of many of these educational institutions. More than ever, schools have become places where children practice what to do in the event a gunman appears on campus, and where their buildings and hallways are regularly being scanned by surveillance cameras for potential threats.
Against the backdrop of these security precautions, one bit of good news is that campus violence has decreased in recent years, according to federal statistics.
A new report (pdf) from the National Center for Education Statistics (NCES) says the proportion of schools using surveillance cameras went up from 61% in 2009-2010 to 75% in 2013-2014. During the same period, more schools started using active shooter drills to prepare students for how to respond to unexpected violence. The rate of schools conducting the drills increased from 52% in 2009-2010 to 70% in 2013-2014. The percentage of schools employing electronic systems to notify parents of school emergencies also went up, from 63% to 82%.
One thing that didn't increase was the presence of security guards, which stayed about the same at 43%.
The NCES report also revealed that the rate of violent incidents in public schools declined during the study period, from 74% to 65%. In addition, the rate of violent incidents went down from 25 for every 1,000 students to 15 per 1,000 students.
There has been one unexpected consequence of active shooter drills used at schools and other facilities. Some simulations have been so realistic that they have produced severe emotional trauma in the participants. A number of those incidents have resulted in lawsuits filed by the people who were traumatized.
-Noel Brinkerhoff, Danny Biederman
To Learn More:
U.S. Public Schools Report Fewer Violent Incidents (by Emma Brown, Washington Post)
Public School Safety and Discipline: 2013 –14 (National Center for Education Statistics) (pdf)
'Active Shooter' Drills Spark Raft of Legal Complaints (by Dan Frosch, Wall Street Journal)
Indicators of School Crime and Safety: 2013 (National Center for Education Statistics and Bureau of Justice Statistics) (pdf)