7 Years after Financial Collapse, most Americans Say the Housing Crisis Hasn't Ended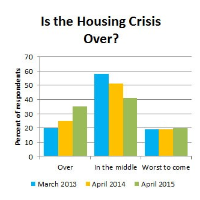 (graphic: Steve Straehley, AllGov)
A strong majority of Americans continue to feel dissatisfied or worse about the housing market, seven years after it collapsed.
A survey (pdf) conducted for the MacArthur Foundation shows 61% of people believe the housing crisis hasn't ended. Just over 40% said the nation is "still in the middle" of the housing crisis, while 20% feel "the worst is yet to come."
The pessimism is fueled by problems many are having in paying rent or their mortgages. Fifty-five percent told the survey that they had to make at least one sacrifice or tradeoff in the past three years to pay their landlord or bank. Twenty-one percent said they had to get an additional job or work more, 17% stopped saving for retirement, 14% accumulated credit card debt, and 12% cut back on healthy nutritious foods, according to the survey.
"Decent housing at an affordable price remains a challenge for an increasing number of Americans, even after the recession has formally ended," MacArthur President Julia Stasch said. "It is disturbing that people feel the American dream and prospects for social mobility are receding. This survey is a wake-up call. People want and expect solutions to the housing crisis to be a higher priority for both national and local leaders alike."
There was some good news in the survey. There is more confidence about the housing market than there was two years ago. Of those surveyed this year, 35% say the housing crisis is behind us. Not great numbers, but better than the 25% who thought that way last year or the 20% in 2013.
-Noel Brinkerhoff
To Learn More:
Prolonged Housing Crisis Diminishes Confidence in the American Dream, 2015 Housing Matters Survey Finds (MacArthur Foundation)
Foreclosure Crisis Increased Racial Segregation in U.S. (by Steve Straehley, AllGov)
Almost 10 Million Homeowners Owe more than their House is Worth (by Noel Brinkerhoff, AllGov)
Record BofA Mortgage Settlement Has $800 Million for California but Not a Lot for Homeowners (by Ken Broder, AllGov California)
The Obama Mortgage Settlement is Just Another Bank Bailout in Disguise (by David Wallechinsky, AllGov)