50% Increase in U.S. Cities Advancing Laws to Restrict the Sharing of Food with Homeless People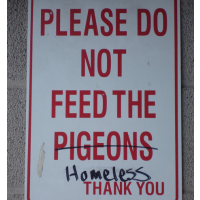 (photo: National Coalition for the Homeless)
Every year, feeding the homeless is getting a little bit harder to do in the United States.
Since 2010 there has been close to a 50% increase in the number of American cities that have passed or introduced laws imposing restrictions on the sharing of food with homeless people.
Fort Lauderdale has become the latest to do so. The Florida city is the 22nd since January 2013 alone to approve such a law or restrict such practices through community pressures, according to the National Coalition for the Homeless. Another 10 U.S. cities are in the process of passing such legislation.
Cities that already have these laws on the books include Houston, Texas; Costa Mesa, Chico and Hayward, California; Raleigh, North Carolina; and Olympia, Washington.
The Coalition, which is an advocacy group for the homeless, began tracking this kind of legislation in 2010. It discovered that there has been a 47% increase in U.S. cities' efforts to pass such laws in the last four years.
Fort Lauderdale's law mandates that soup kitchens must be at least 500 feet away from homes. They also must be 500 feet apart from each other, and there can only be one homeless food site located per city block.
The ordinance, which city commissioners passed by a vote of 4-1, does not restrict churches from providing food to the homeless as long as it is done indoors.
A number of organizations that provide weekly meals to the homeless may be forced to halt their operations as a result of the new rules, according to The Sun Sentinel. One in six food charity organizations are already concerned that they'll have to close up shop soon, according to a recent study (pdf) released by Feeding America.
City lobbyist and Miami-Dade County Homeless Trust chairman Ron Book supports the ordinance. "Feeding people on the streets is sanctioning homelessness," he told the newspaper. "Whatever discourages feeding people on the streets is a positive thing."
"One of the most narrow-minded ideas when it comes to homelessness and food-sharing is that sharing food with people in need enables them to remain homeless," counters a new report (pdf) from the National Coalition for the Homeless. "In many cases food-sharing programs might be the only occasion in which some homeless individuals will have access to healthy, safe food."
Fort Lauderdale commissioners who passed the restrictive ordinance said they participate in other efforts to help the homeless, including projects to provide housing and one-way tickets to reunite the homeless with family members in other parts of the country.
- Danny Biederman, Noel Brinkerhoff
To Learn More:
Fort Lauderdale Commissioners Pull All-Nighter and Approve Homeless Feeding Restrictions (by Larry Barszewski, Sun Sentinel)
Share No More: October, 2014 Report The Criminalization of Efforts to Feed People In Need (National Coalition for the Homeless) (pdf)