3 People per Day Shot and Killed by Police in U.S.
Tuesday, December 29, 2015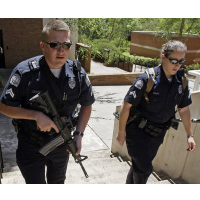 (photo: John Bazemore, AP)
Police in the United States fatally shot an average of three people a day this year, according to The Washington Post.
A study by the newspaper found that 965 people in the U.S. were killed by police officers in 2015, an average of about three people every day.
Of the 965 deaths, 9% involved incidents in which a suspect was unarmed. The remainder fell into one of three categories: the suspect had a weapon of some kind, they were suicidal or mentally troubled, or they attempted to flee when officers ordered them to halt.
Forty percent of the shootings involved black male victims — "a grossly disproportionate number with African-American males making up only 6 percent of the population," Tom Boggioni wrote in Raw Story.
Caucasians made up the majority of cases where police shot and killed a person who had attacked someone or brandished a weapon. But 60% of those killed after exhibiting less threatening behavior were black or Hispanic.
The Guardian, which counts all police killings, not only those involving a gun, last month reported the 1,000th police killing of the year had occurred. Police in Oakland, California, shot a man who was said to have pointed a replica gun at officers. As of Monday, The Guardian's tally was up to 1,126.
-Noel Brinkerhoff
To Learn More:
Police Shot and Killed Nearly Three Americans Every Day in 2015: Report (by Tom Boggioni, Raw Story)
A Year of Reckoning: Police Fatally Shoot Nearly 1,000 (by Kimberly Kindy, Marc Fisher, Julie Tate and Jennifer Jenkins, Washington Post)
Number of People Killed by U.S. Police in 2015 at 1,000 after Oakland Shooting (by Jon Swaine and Oliver Laughland, The Guardian)
Black Men: 6% of Population; 40% of Unarmed People Shot to Death by Police This Year (by Noel Brinkerhoff, AllGov)
Police Shoot to Death One Unarmed Person Every 3 Days in U.S. (by Noel Brinkerhoff, AllGov)
How Many People are Killed by Police in U.S.? Who Knows? (by Steve Straehley, AllGov)