2 GSA Managers Named in Lavish Conference Scandal Reinstated with 30 Months Back Pay
Thursday, January 01, 2015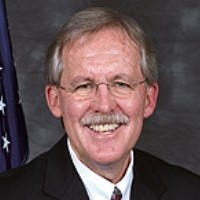 Paul Prouty (photo: GSA)
Four years ago, the General Services Administration (GSA) was caught spending more than $800,000 in taxpayer money on a lavish conference in Las Vegas. The fallout included the firing of two GSA managers who were accused by the agency of not providing better oversight of those who planned the event, which featured a clown, a mind reader and a $31,208 reception.
Now a civil service review board has ruled (pdf) that the agency was wrong to fire the managers and the GSA has been ordered to reinstate them and give them 30 months of back pay.
The Merit Systems Protection Board ruled for Paul Prouty, former GSA commissioner for Public Building Service Region 8, and James Weller, the Region 7 commissioner, who will be back on the job in January.
GSA said Prouty and Weller didn't properly supervise their employees or investigate alleged misconduct. But the board cited precedent saying supervisors "cannot be held responsible for the improprieties of subordinate employees" unless the supervisors had direct knowledge of the alleged misconduct, according to Government Executive.
As far as MSPB was concerned, the blame rested with Region 9 officials who planned the conference.
-Noel Brinkerhoff
To Learn More:
Two GSA Managers Fired in Conference Scandal Reinstated With 30 Months of Back Pay (by Eric Katz, Government Executive)
Prouty & Weller, Appellants, v. General Services Administration, Agency (Merit Systems Protection Board)
If You Thought the GSA Conference was Expensive, How about This One for the Army? (by Noel Brinkerhoff, AllGov)
Bill Would Ban Bonuses for Federal Employees under Investigation…If They Work for GSA (by Noel Brinkerhoff, AllGov)