19% Increase in Kids Taken Into Custody in U.S. Largely Due to Parents' Drug Addictions
Wednesday, November 02, 2016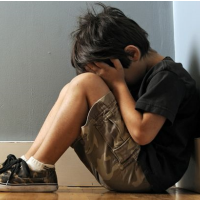 (photo: Getty)
By Andrew Welsh-Huggins, Associated Press
CINCINNATI (AP) — The country's addictions epidemic has created a generation of children affected by their parents' problems, a doctor who works with infants born addicted to heroin told a gathering of experts struggling with the issue Tuesday.
The effect includes the physical problems of the addicted newborns and the chaos older children experience as a result of their parents' addictions, said Dr. Kathy Wedig, a neonatologist at Cincinnati Children's Hospital.
Such children "cannot have what we would consider is a normal childhood," Wedig said.
Wedig says the epidemic is affecting society overall because of the cost of treating and helping such children.
Tuesday's conference at Xavier University drew hundreds of doctors, nurses, social workers and addiction specialists.
Cases of children suffering from "toxic stress," a condition caused by exposure to trauma or neglect, are both increasing and more severe because of the addictions epidemic, said Dr. Jennifer Bowden, a child psychiatrist in Cincinnati.
Toxic stress can inhibit physical, emotional, social and language development and put children at risk for health issues such as emphysema, diabetes and cardiac problems, she said.
The Public Children Services Association of Ohio says the number of children taken into custody has risen 19 percent over the past seven years. The increase is largely due to parents' painkiller and heroin addictions, according to the association.
The group says placing the children of addicts in protective custody is costing taxpayers $45 million a year.
Last year, the state saw a record 3,050 overdose deaths, a 20 percent increase, with many of those attributed to painkillers and heroin abuse.
The Centers for Disease Control and Prevention says opioid overdose deaths, including addictive painkillers and heroin, hit record levels in 2014, with a 14 percent increase in just one year.
In eastern Ohio, Cindy King-Anderson and her husband are raising their 5-year-old grandson following his father's death from a heroin overdose last year. The boy was born addicted and needed six weeks of detox in the hospital.
The boy is autistic with anger issues and requires work with a speech therapist and other specialists. King-Anderson says people need to understand that the problems faced by children like her grandson are ongoing long after their birth addiction is addressed.
"Our biggest challenge? It's basically being grandparents and trying to be a parent at the same time," said King-Anderson, 53, of Columbiana.