1,700 U.S. Cities Could Be Partially Underwater by 2100 Due to Climate Change
Thursday, August 01, 2013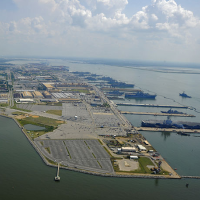 Norfolk Naval Base (photo: Christopher B. Stoltz, U.S. Navy)
Rising sea levels brought about by climate change could threaten 1,700 cities and towns in the United States by the year 2100, according to a new scientific study.
The list of urban areas that could find themselves partially underwater includes Boston, New York and Miami.
Experts who produced the study published in the Proceedings of the National Academy of Sciences said that even if steps to reduce greenhouse gas emissions were implemented immediately, it might be too late for some American cities.
"Even if we could just stop global emissions tomorrow on a dime, Fort Lauderdale, Miami Gardens, Hoboken, New Jersey will be under sea level," Benjamin Strauss, a researcher at Climate Central, and author of the paper, told The Guardian.
"Hundreds of American cities are already locked into watery futures and we are growing that group very rapidly," Strauss added. "We are locking in hundreds more as we continue to emit carbon into the atmosphere."
But all is not lost for every city on the list. Taking action to cut emissions could save nearly 1,000 towns, according to the study.
A city was placed on the list if 25% of its current population lives below what scientists project will be future high-tide levels.
Among those taking this threat seriously is the Pentagon, which has plans in the works for relocation of its bases to avoid the expected calamity. One of those is the nation's largest naval base in Norfolk, Virginia, whose installations on the waterfront are expected to find themselves submerged by the 2040s.
-Noel Brinkerhoff
To Learn More:
Climate Study Predicts a Watery Future for New York, Boston and Miami (by Suzanne Goldenberg, The Guardian)
Surging Seas (by Ben Strauss, Claudia Tebaldi, and Remlk Zlemlinski; Climate Central) (pdf)
U.S. Study Says Climate Change Could Kill What's Left of S.F. Bay Marshes by 2100 (by Ken Broder, AllGov California)
50,000 Plant and Animal Species Threatened by Loss of Their Natural Habitats from Climate Change (by Noel Brinkerhoff and Danny Biederman, AllGov)
Acidification of Oceans Caused by Climate Change to Last Tens of Thousands of Years (by Noel Brinkerhoff, AllGov)