10 Americans a Year Die during Robotic Surgery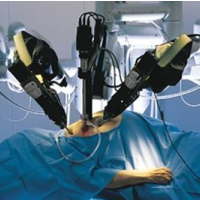 (photo: DaVinci Surgery Systems)
Robots, which have increasingly become a part of surgeries in the United States, are responsible for a small number of deaths each year, a new study (pdf) shows.
Researchers at the University of Illinois at Urbana-Champaign, the Massachusetts Institute of Technology and Chicago's Rush University Medical Center found 144 people who had robotic surgery died from 2000 through 2013. The research also found 1,391 injuries and 8,061 device malfunctions out of more than 1.7 million robotic procedures. The highest number of deaths in a year, 58, occurred in the final year of the study as robots were more widely used.
Doctors utilize robots for surgery to reduce the risk of infections and help patients heal more quickly. The vast majority of robotic surgery (86%) deals with gynecology and urology. The fatalities and injuries, however, were more likely to occur with "more complex surgeries, such as cardiothoracic and head and neck."
Problems that arose during robotic surgeries included broken instruments falling into patients' bodies, electrical sparks causing tissue burns and system errors making surgery take longer than planned.
"Despite widespread adoption of robotic systems for minimally invasive surgery, a non-negligible number of technical difficulties and complications are still being experienced during procedures," the study states.
"Adoption of advanced techniques in design and operation of robotic surgical systems may reduce these preventable incidents in the future."
The study was based on data submitted to the Food and Drug Administration, so actual numbers could be higher. It did not compare death rates for robotic surgery with similar procedures done with traditional methods.
-Noel Brinkerhoff, Steve Straehley
To Learn More:
Robotic Surgery Linked To 144 Deaths In The U.S. (BBC News)
Adverse Events in Robotic Surgery: A Retrospective Study of 14 Years of FDA Data (by Homa Alemzadeh, Ravishankar K. Iyer, Zbigniew Kalbarczyk, Nancy Leveson and Jai Raman) (pdf)