U.S. Ambassador to Togo: Who Is David Gilmour?
Saturday, September 05, 2015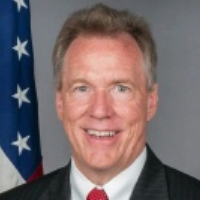 President Barack Obama on May 6, 2015, announced his intention to nominate David R. Gilmour, a career Foreign Service officer, to be the next Ambassador to Togo, and Gilmour testified at his Senate confirmation hearing on July 30.
Gilmour is from Bridgeport, Michigan, where his father worked for local governments of for 34 years. Gilmour graduated from Bridgeport High School in 1977. He attended Saginaw Valley State University, graduating in 1981 with a B.A. degree from the College of Arts and Behavioral Sciences. He went on to the University of Texas in Austin, where he earned an M.A. before joining the Foreign Service in 1986.
Gilmour's early assignments were in Africa, serving as a junior officer in the embassy in Dakar, Senegal; a public affairs officer in Douala, Cameroon; and the educational exchange officer in Pretoria, South Africa. He then served a tour as information officer in the embassy in San José, Costa Rica, before going to Australia to be director of public affairs in the Sydney consulate in the run-up to the 2000 Olympic Games.
Gilmour returned to Africa in 2004 as deputy chief of mission at the embassy in Lilongwe, Malawi. He also served as chargé d'affaires for a time. Gilmour next went to Geneva, Switzerland in 2007 as public affairs counselor at the U.S. mission. The following year he was sent to Panama to be deputy chief of mission at the embassy.
In 2011, Gilmour returned to Washington as the director of Public Diplomacy and Public Affairs in the State Department's Africa Bureau. In August 2013, he was moved up to be deputy assistant secretary of state in the Bureau of African Affairs, the position he holds as he awaits confirmation for the Togo post.
Gilmour and his wife, Judith Martin (whose father was a Foreign Service officer), have three grown sons: Tristan, Miles and Schyler.
-Steve Straehley
To Learn More:
Statement to the Senate Foreign Relations Committee (pdf)
State Department Cables 2004-2010 (WikiLeaks)