U.S. Ambassador to the Philippines: Who Is Sung Y. Kim?
Saturday, September 24, 2016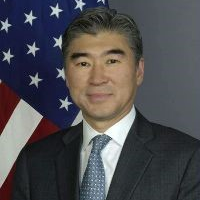 Sung Kim
Sung Y. Kim was nominated on May 19, 2016, to be the U.S. ambassador to the Philippines, confirmed by the Senate on September 26 and sworn in on November 3. It is his second ambassadorial post, and he is be the first person of Asian heritage to serve as American ambassador to that country.
Kim's father, Kim Ki-wan (a.k.a. Kim Jae-kwon) was a member of the Korean CIA and was posted as a diplomat to Japan. He was implicated in the 1973 kidnapping of dissident (and future president) Kim Dae-jung. Kim himself had been kidnapped, by North Korea, and held for 20 days in 1958.
Born in 1960, Kim was 13 years old when his father, following the kidnapping, moved his family to Los Angeles. Kim received his U.S. citizenship in 1980.
He earned his B.A. from the University of Pennsylvania and received a J.D. from Loyola University Law School in Los Angeles in 1985 as well as an LL.M. from the London School of Economics.
Prior to joining the Foreign Service, Kim worked as a prosecutor in the Los Angeles District Attorney's office.
Kim's early assignments included postings to Kuala Lumpur and Hong Kong. He also took a year off from the State Department to help nurse his father, who died in 1993. In Washington, Kim worked in the Office of Chinese Affairs and served as staff assistant in the Bureau of East Asian and Pacific Affairs.
From 1999 to 2002, he served as a political officer in Tokyo and was the political-military unit chief at the U.S. embassy in Seoul from 2002 to 2006. He then headed the Office of Korean Affairs in Washington from 2006 to 2008.
In July 2008, Kim became the special envoy for North Korean affairs and chief representative to the Six-Party Talks regarding North Korea's nuclear weapons program. For this position he was accorded the rank of ambassador following confirmation by the Senate.
In 2011, Kim became the first American of Korean descent to serve as ambassador to South Korea. He served there until 2014, when he was named special representative for North Korean policy and deputy assistant secretary for Korea and Japan. Kim has traveled to North Korea at least 10 times and is known for using only English, despite his fluency in Korean, in negotiations with officials of that country.
Kim and his wife, Jae, have two daughters, Erin and Erica. His uncle is a former news anchorman in Korea and he has two cousins who are well-known entertainers there.
-Steve Straehley, Noel Brinkerhoff, David Wallechinsky
To Learn More:
Sung Kim to Become First U.S. Ambassador of Korean Descent (by Kwon Tae-ho, The Hankyoreh)