U.S. Ambassador to the Central African Republic: Who Is Jeffrey J. Hawkins?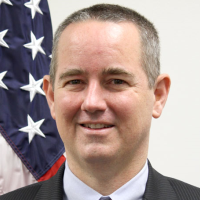 Jeffrey J. Hawkins Jr., a career member of the Foreign Service, was named on April 16, 2015, as the nominee to be the next U.S. ambassador to the Central African Republic. If he's confirmed, it will be his first ambassadorial posting.
Hawkins is from California, and graduated from the University of California at Berkeley with a B.A. in history in 1988. He followed that up with an M.A. in international relations from UCLA in 1990.
Hawkins' first job after college was in the federal government, but it was in the Commerce Department, where he was a presidential management intern and was desk officer for the International Trade Administration. He joined the State Department in 1994, with his first posting coming as a political officer in Abidjan, Ivory Coast. Hawkins moved to Chennai, India, as a deputy consular section chief in 1996 and to Islamabad, Pakistan as a political officer in 1999.
In 2002, Hawkins was made desk officer for Kazakhstan and Turkmenistan at the State Department in Washington. While there, he also acted as deputy director for the Office of Central Asian Affairs. It was during this period, after the terrorist attacks of September 11, 2001, that Hawkins also joined the Naval Reserve. The State Department sent Hawkins in 2003 for his tour in Afghanistan, where he was a political and economic counselor in the embassy in Kabul. While there, he helped craft the new Afghan constitution.
Hawkins was sent to Brunei in 2004 as the deputy chief of mission in the embassy in Bandar Seri Begawan. Following that, beginning in 2006 Hawkins was the U.S. consul in Lille, France.
In 2008, Hawkins was named a deputy chief of mission again, this time in Luanda, Angola. He returned to Washington in 2010 to be director of the Office of Near East and South and Central Asia in the Bureau of Democracy, Human Rights and Labor, where he managed human rights programs. In 2012, Hawkins was sent to Lagos, Nigeria as consul general.
Hawkins and his wife, Annie Chansavang, a financial officer with the French oil company Total, have two sons, Maxime and Alexandre. Hawkins' former wife, Michele Sison, is also a career Foreign Service officer and is currently U.S. Deputy Representative to the United Nations. Hawkins speaks French and Portuguese.
-Steve Straehley
To Learn More:
Why I'm Successful in Nigeria, by U.S. Diplomat (by Debo Oladimeji, Lagos Guardian)