U.S. Ambassador to Swaziland: Who Is Lisa J. Peterson?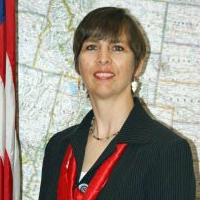 Lisa Peterson
Lisa J. Peterson, a career Foreign Service officer, was confirmed by the U.S. Senate on Nov. 19, 2015 as the U.S. ambassador to Swaziland. It is her first such posting.
Peterson is a graduate of the University of Rochester, earning a B.A. in political science, in 1986. The following year she took a job at the University's Carlson Mathematics and Sciences Library, and in 1988 she worked for the University of Rochester's Department of Chemistry. She joined the Foreign Service in 1989, with one of her first postings coming as a consular officer in the embassy at Bangui in the Central African Republic, where she worked for two years. In 1991 she began a two-year term as vice consul at the U.S. Consulate General Durban in South Africa.
In the United States, she was an analyst for Bolivia, Ecuador and Peru in the Bureau of Intelligence and Research. Peterson was sent in 1996 to the embassy in Kinshasa, Democratic Republic of the Congo as a political officer. Two years later, she took on a similar role in Lusaka, Zambia, and in 2002 was a political officer again at the embassy in Nairobi, Kenya.
Peterson returned to the United States in 2006 to be deputy director of the Office of Central African Affairs. The following year she was back in Africa, this time as the cultural officer in Abuja, Nigeria. In 2009, Peterson was made deputy chief of mission at the embassy in Yaounde, Cameroon, serving at times as chargé d'affaires.
She was brought home in 2012 to serve as director of the Office of Multilateral and Global Affairs in the Bureau of Democracy, Human Rights and Labor. Much of her work there focused on the treatment of LGBT people in other countries. She held that post until her nomination as ambassador.
Peterson, who speaks French, is married; her husband also works for the State Department.
-Steve Straehley
To Learn More: