U.S. Ambassador to Senegal and Guinea-Bissau: Who Is James P. Zumwalt?
Sunday, September 28, 2014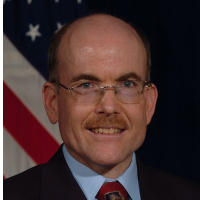 On September 11, 2014, the Senate Foreign Relations Committee held a hearing on the nomination of James P. Zumwalt, a career Foreign Service officer to be the U.S. Ambassador to Senegal and Guinea-Bissau. If confirmed, it would be his first ambassadorial post.
Zumwalt is from El Cajon, California. His parents were high school teachers and his uncle was Navy Admiral Elmo Zumwalt.
Zumwalt's first experience with diplomacy was as an exchange student to Japan in 1973 while he was in high school. It didn't begin well as he had a lot of trouble learning Japanese. He persevered and was finally able to read, write and speak the language. He continued to study Japanese in college, earning a B.A. in American history and Japanese language from the University of California-Berkeley in 1979. He did some post-graduate work studying Japanese at two universities in Japan.
Upon joining the Foreign Service, one of his first assignments was in Kinshasa, Zaire (now Democratic Republic of the Congo) as economic officer from 1981 to 1983. Zumwalt's next assignment, as a consular officer in Kobe from 1983 to 1985, allowed him to use the Japanese he had learned. He came back to the United States as political officer in the Office of Philippine Affairs in 1987. He returned to Japan in 1989 as an economic officer at the U.S. Embassy in Tokyo until 1993. Then, he was in Washington as economic unit chief in the Office of Korean Affairs at the Department of State and the following year was made special assistant to the assistant secretary in the Bureau of Economic and Business Affairs.
In 1998, he earned a Master's degree in International Security Studies from the National War College.
In 1999, Zumwalt began a tour as an economic minister-counselor at the U.S. Embassy in Beijing. He returned to Tokyo in 2002 as an economic counselor and economic minister at the embassy there. Zumwalt was posted back to Washington in 2006 as director of the Office of Japanese Affairs. He went back to Tokyo in 2008 as deputy chief of mission, serving as chargé d'affaires for a time during 2009. While there, he wrote a blog for the embassy website focusing on Japanese culture and other issues. In 2012, Zumwalt was back in Washington as deputy assistant secretary of state for Japan and Korea, a post he held until his nomination to be ambassador.
Zumwalt is married to Ann Kambara, a fellow Foreign Service officer. They met while both were serving in Japan in 1983. In addition to Japanese, Zumwalt speaks some Chinese and French.
-Steve Straehley
To Learn More:
Testimony before the Senate Committee on Foreign Affairs (pdf)
State Department Cables 2005-2010 (WikiLeaks)