U.S. Ambassador to Nepal: Who Is Alaina Teplitz?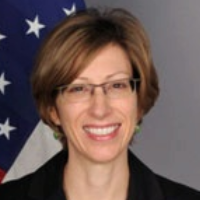 On March 26, 2015, President Barack Obama announced his intention to nominate Alaina B. Teplitz, a career Foreign Service officer, to be the next U.S. ambassador to Nepal. If Teplitz is confirmed, it will be her first such posting.
She is the daughter of Marsha Neece (Freeman) and Jack Teplitz, a lawyer and developer. Teplitz attended New Trier High School in Winnetka, Illinois, a suburb of Chicago. Fellow graduates of that high school include former Secretary of Defense Donald Rumsfeld, Chicago Mayor and former Obama Chief of Staff Rahm Emanuel, novelist Scott Turow and actors Ralph Bellamy, Charlton Heston andRock Hudson . After graduating in 1987, Teplitz went on to Georgetown University where she earned a B.A. in Foreign Service and joined the State Department in 1991.
Her first overseas assignment was as the first economic office in the U.S. embassy in Ulan Bator, Mongolia. Other early postings include Tirana, Albania; and Sydney, Australia.
Much of Teplitz's career has been in administration, including stints as special assistant to the assistant secretary for administration and as a program analyst in the Bureau of Administration. She was also a management counselor at the embassy in Dhaka, Bangladesh and was deputy director of the Joint Administrative Services for three U.S. missions—the U.S. mission to NATO, the U.S. mission to the European Union, and the embassy in Brussels, Belgium.
In August 2007, Teplitz began passing on her expertise to others as she made director of the Management Training Division of the Foreign Service Institute. She gained more experience with South Asia beginning in 2009 as deputy executive director of the joint executive office of the Near East and South and Central Asia Bureaus with responsibility for South and Central Asia, including Pakistan and Afghanistan.
Like most other Foreign Service officers, she had a tour in Afghanistan, beginning in 2011 as minister counselor for management in the U.S. embassy in Kabul. She returned home in the fall of 2012 and was made director of the Office of Management Policy, Rightsizing and Innovation.
Much of her work was with information technology systems, getting IT policies in international outposts to mesh with those prescribed by Washington, and other efforts at standardization to make the systems more efficient. Part of her mandate was also to look for cost-savings by contracting out some jobs and ensuring that missions were not overstaffed.
Married to Robert D. Saul, Teplitz has two sons, Max and Miles.
-Steve Straehley
To Learn More:
Testimony before Senate Foreign Relations Committee (pdf)
Alaina Teplitz Interview (by Steve Watkins, Federal Times)
16 Days of Activism Against Gender-Based Violence (by Alaina Teplitz, U.S. Embassy-Kabul, YouTube)