U.S. Ambassador to Mexico: Who Is Roberta Jacobson?
Saturday, October 24, 2015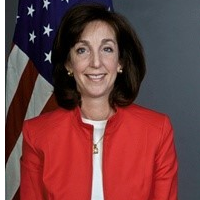 Roberta Jackson
Roberta S. Jacobson, the Assistant Secretary for Western Hemisphere Affairs, was named on June 1, 2015, by President Barack Obama to be Ambassador to Mexico. If she's confirmed, it will be the first ambassadorial position and only the second embassy post for Jacobson, who has spent her entire State Department career working on U.S.-Latin American relations.
Born March 8, 1962, Jacobson is from Englewood, New Jersey. She earned her BA from Brown University in 1982, worked for the United Nations Center for Social Development and Humanitarian Affairs from 1982 to 1984, and returned to school to earn an MA in International Relations, concentrating in U.S.-Latin American relations, from the Fletcher School of Law and Diplomacy at Tufts University in 1986.
Jacobson entered the State Department in 1986 as a Presidential Management Intern and was assigned to the National Security Council for a time in 1988. She then began her long career with the Bureau for Western Hemisphere Affairs, working directly for the Assistant Secretary, first as special assistant from 1989 to 1992, and then as executive assistant from 1993 to 1994. Jacobson served as the Bureau's Coordinator for Cuban Affairs from 1994 to 1996, and from 1996 to 2000, she was Director of the Bureau's Office of Policy Planning and Coordination, covering issues such as civil-military relations, human rights, foreign assistance, presidential travel, and counter-narcotics.
Jacobson's first overseas posting came in 2000, when she was named Deputy Chief of Mission at the U.S. Embassy in Lima, Peru, where she served until December 2002, during the fall of the Alberto Fujimori regime and the creation of the truth and reconciliation commission. Her appointment brought criticism from the Foreign Service community as DCM posts are, by State Department regulations, supposed to go only to career Foreign Service employees. Returning stateside, Jacobson served as Director of the Office of Mexican Affairs from December 2002 to June 2007, and as Deputy Assistant Secretary for Canada, Mexico, and NAFTA issues from June 2007 until December 2010.
Jacobson had served as Principal Deputy Assistant Secretary since December 6, 2010, with responsibility for regional political, security and economic issues. In addition, she was the senior coordinator for the State Department's "Security Initiatives" in the Western Hemisphere (Merida Initiative, Central America Regional Security Initiative, Caribbean Basin Security Initiative, and Colombia Strategic Development Initiative).
Jacobson took over as the State Department's Acting Assistant Secretary for Western Hemisphere Affairs on July 18, 2011. On September 27, Obama nominated her to be Assistant Secretary and she was finally confirmed by the Senate on March 29, 2012.
Since becoming Assistant Secretary, much of Jacobson's work has involved negotiations with Cuba leading up to the normalization of diplomatic relations. Her success in those efforts could pose a problem for her when (and if) her nomination comes up for a vote in the Senate. Marco Rubio (R-Florida) opposed her nomination as Assistant Secretary and held it up for several months. Rubio is now running for president and that, along with Republican delay tactics used on most Obama nominees, might mean Jacobson will be waiting a while to board a flight for Mexico City.
Jacobson is the author of a chapter on the United Nations' Committee on the Elimination of Discrimination Against Women in The United Nations and Human Rights: A Critical Appraisal (Oxford University Press, 1992) and an article titled "Liberation Theology as a Revolutionary Ideology in Latin America" (Fletcher Forum, Summer 1986), among other writings.
Jacobson's husband, Jonathan, works for the Environmental Protection Agency. They have two sons, Gil and Daniel.
-Matt Bewig, Steve Straehley
To Learn More:
State Official Makes Her Mark on Rising Western Hemisphere (by Larry Luxner, Washington Diplomat)
Statement of Roberta S. Jacobson (pdf) (Senate Foreign Relations Committee)