U.S. Ambassador to Latvia: Who Is Nancy Pettit?
Sunday, November 23, 2014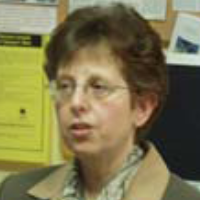 Nancy Bikoff Pettit, a career Foreign Service officer, was nominated to be ambassador to Latvia on September 8, 2014. If she's confirmed by the Senate, it will be her first ambassadorial post.
Pettit is from Patchogue, New York, where she graduated from Patchogue-Medford High School in 1971. Her father, David, was a physician. Pettit earned her undergraduate degree at Vassar in 1975, and then went to the University of Michigan, alma mater of her mother, Muriel, and earned an M.A. in 1977.
After college, Pettit worked for a few years as a research assistant at the Library of Congress and at the U.S. Board for International Broadcasting.
She then joined the Foreign Service, with her first posting coming as an assistant in the Office of Cultural Affairs at the U.S. Embassy in Moscow in 1983. Also posted there was her husband, James Pettit, another career State Department employee. In 1986, she was posted to the American Institute in Taiwan, which stands in for an embassy in that nation, as a consular officer.
Pettit returned to Washington in 1988 as a desk officer on the Soviet desk in the European Bureau of the State Department. She served in that role for two years before being made an analyst in the Office of Soviet Union Affairs in the Bureau of Intelligence and Research.
In 1992, Pettit got to put her knowledge of the Soviet Union to first-hand use when she was named a political officer in the embassy in Moscow. Her husband was also there, as were their two children, when a constitutional crisis swept the country. The Pettits and other embassy personnel and their families were forced to remain in an underground shelter for two days during the unrest.
She returned to Washington in 1994 as a desk officer in the Office of Regional Affairs' Near East Bureau. After two years there, Pettit became an examiner in the department's Board of Examiners. In 1998, she was named an international relations officer in the Office of Newly Independent States.
Pettit went overseas again in 1999 as a political officer in the U.S. Embassy in Vienna, Austria. She returned to Moscow in 2003 as a narcotics officer, where she remained until 2007. In 2008, Pettit was made information officer in the embassy in Kyiv, Ukraine.
She returned to Washington in 2010 as director of the Office of Policy Planning and Coordination in the Bureau of International Narcotics and Law Enforcement.
If Pettit is confirmed, for once she and her husband won't be assigned together—he has been nominated to be ambassador to Moldova.
-Steve Straehley
To Learn More:
U.S. Ambassador to Moldova: Who Is James Pettit? (by Steve Straehley, AllGov)