U.S. Ambassador to Haiti: Who Is Peter Mulrean?
Saturday, September 19, 2015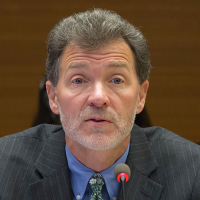 Peter F. Mulrean, a career member of the Foreign Service, was announced as President Barack Obama's nominee as the next ambassador to Haiti on May 6, 2015. Mulrean was confirmed by the Senate on August 5, 2015.
The son of Francis and Ann Mulrean, Peter Mulrean is from Boston and attended Harvard University. He did some acting in plays there, but one performance got what might be called an uneven review from the Harvard Crimson. Nonetheless, he graduated with a B.A. in government in 1981.
He initially went to work in the financial sector, for Baybanks Systems and Chubb. However he left the corporate world to become a Peace Corps volunteer, teaching English in Khenifra, Morocco. After his stint with the Peace Corps, he continued as an English teacher in Japan and China.
Mulrean joined the Foreign Service in 1988, with his first posting coming at the U.S. consulate in Zagreb, Yugoslavia. He ended up serving in Europe for most of his career, but he did serve a hitch at the U.S. embassy in New Delhi, India. In the United States, Mulrean worked in the Office for Coordination for Eastern European Assistance and in 1992 he was assigned to the Conference on Security and Cooperation in Europe, setting up an observation mission for that body in Kosovo in the wake of the breakup of Yugoslavia.
He subsequently was assigned to the U.S. embassy to the Netherlands in The Hague, and then beginning in 1998 as an exchange diplomat to the European Commission in Brussels, Belgium. Mulrean's next assignment was also in Brussels, as a deputy political counselor at the U.S. mission to the European Union. He returned home in 2002 to serve as deputy director in the Office for the Promotion of Human Rights and Democracy.
Mulrean's next posting, in 2004, was at the embassy in Tunis, Tunisia as regional director of the Middle East Partnership Institute. He then went in 2008 to the U.S. mission to the UN in Geneva as counselor for refugee and migration affairs.
Mulrean's tour in Kabul began in 2011, when he served as State Department director for interagency provincial affairs. He returned to Geneva the following year as deputy chief of mission at the U.S. mission to the UN. In 2014, he made news by criticizing Vietnam's civil rights policies at the quadrennial UN review of that country.
Mulrean and his wife, Corinne Beque, have two daughters, Chloe and Celine. He speaks French, Dutch and Serbo-Croatian and likes to wear bow-ties.
-Steve Straehley
To Learn More: