U.S. Ambassador to Ghana: Who Is Robert Jackson?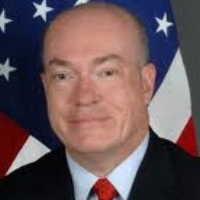 Robert Jackson
Robert P. Jackson was confirmed by the U.S. Senate on October 22, 2015, to be the U.S. Ambassador to Ghana. It is the second such posting for the Africa specialist.
A native of Tennessee, Jackson received his B.A. degree in Government and Legal Studies from Bowdoin College in Brunswick, Maine, in 1978. He earned an M.A. in International Affairs from George Washington University in 1997, and an M.S. in National Resource Strategy from National Defense University, both in Washington, D.C.
Jackson said in an interview that he'd wanted to join the Foreign Service since he read "The Ugly American" as an eighth-grader. As is common, he didn't pass the tough Foreign Service exam on the first try, so he taught English and American Civilization at the University of Clermont in Clermont-Ferrand, France. He subsequently taught French and English as a foreign language at the Institut Montana in Zugerberg, Switzerland.
Jackson has held a variety of posts since joining the Foreign Service in 1982: Consular/Economic Officer in Montreal, Canada; Political/Economic Officer in Bujumbura, Burundi; Chief of the Political Section in Harare, Zimbabwe; Country Officer for Nigeria, Zimbabwe and Botswana; Coordinator of the Junior Officer Training Program and Deputy Director of the Orientation Division at the Foreign Service Institute in Washington, D.C.; Political-Military Officer in Lisbon, Portugal; Political/Economic Counselor at the U.S. Embassy in Abidjan, Cote d'Ivoire; and Director of the Office for the Promotion of Human Rights and Democracy at the Department of State in Washington, D.C.
Jackson was subsequently named Deputy Chief of Mission and Chargé d'Affairs, ad interim, at the U.S. Embassy in Dakar, Senegal. He also served in that capacity at the U.S. Embassy in Rabat, Morocco.
In 2010, he was named Ambassador to Cameroon. One cause he took up in that post was a fight against cholera. He coordinated the installation of 100 latrines in that country to provide decent sanitation. He also worked to promote trade between Cameroon and the United States.
Jackson was brought home in 2013 as the principal Deputy Assistant Secretary for African Affairs and acting Assistant Secretary. He testified to Congress on multiple occasions about the Boko Haram kidnapping of girls in Nigeria.
Jackson is married to Babette Pollard Jackson, a speech and language pathologist. During his off hours, Jackson plays tennis and bridge. He speaks French and Portuguese.
-Danny Biederman, Steve Straehley