U.S. Ambassador to Fiji, Tonga, Kiribati, Tuvalu and Nauru: Who Is Judith Cefkin?
Saturday, October 11, 2014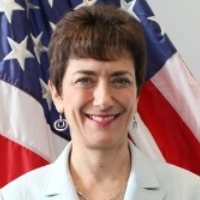 On September 18, 2014, the Senate Foreign Relations Committee approved the nomination of Judith Beth Cefkin to be the next U.S. ambassador to Fiji, also covering Tonga, Kiribati, Tuvalu and Nauru. If confirmed by the full Senate, it would be the first ambassadorial posting for the career Foreign Service officer.
Cefkin was born in 1953 and grew up in Fort Collins, Colorado, where her father John taught political science at Colorado State University. Cefkin attended Smith College, earning a B.A. in government in 1975. She continued her studies at the London School of Economics and Political Science, receiving an M.S. in International Relations from that institution in 1977.
Cefkin didn't join the Foreign Service immediately after finishing college. Instead, she was a legislative intern in the U.S. Senate, worked in Congress' Office of Technology Assessment and was a television news producer at network affiliate stations in Denver and Houston.
She joined the State Department in 1983 and her first assignment was in the U.S. Embassy in Mexico City as vice consul. Other early assignments included regional affairs officer in the Bureau of Political-Military Affairs at the Department of State and desk officer for Rwanda, Burundi and the Central African Republic.
In 1990, Cefkin was assigned to the U.S. Embassy in Bangkok, Thailand, as the ambassador's staff assistant and a political officer. She was moved to Paris in 1993 as political officer and returned to Washington in 1996 as a political officer in the Office of the European Union at the State Department.
Cefkin was sent overseas in 1998 to the embassy in Manila, Philippines, first as deputy political counselor, then as political counselor. She was brought home in 2001 to be deputy director in the Office of Western European Affairs and in 2003 she was made director of the Office of Nordic-Baltic Affairs.
She was sent to Sarajevo in 2006 as deputy chief of mission to the U.S. Embassy to Bosnia and Herzegovina. Cefkin came back to Washington in 2009 to serve as an assessor on the State Department's Board of Examiners. She returned to Manila in 2010 as the deputy chief of mission.
Since 2013, Cefkin has been senior advisor for Burma (Myanmar). She has spent much of the time working on normalizing relations between the United States and that nation, traveling there as part of that effort.
Cefkin is married to Paul Boyd, who was another Foreign Service officer who came to the State Department in mid-career. In his case, he had served in the Army in Vietnam and as a police investigator in New Mexico before joining the Foreign Service.
-Steve Straehley
To Learn More:
Testimony to Senate Foreign Relations Committee (pdf)
State Department Cables (2006-2009) (WikiLeaks)