U.S. Ambassador to Cyprus: Who Is Kathleen Doherty?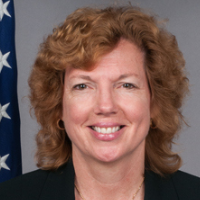 Kathleen Ann Doherty, a career member of the Foreign Service, was nominated to be the next ambassador to Cyprus on March 25, 2015.
Doherty, from New York, earned a B.A. from Colgate University in 1985. She worked as a journalist from 1985 to 1989, writing for Inc., Success, American Banker, Healthy Companies and The Naisbitt Group.
Doherty earned an M.Sc. from the London School of Economics in 1990. She joined the Foreign Service that year, with her early posts including the Dominican Republic (1990-1992) and Brazil (1993-1995). She served in Washington for five years in the energy and business affairs bureau of the Office of Development Finance and in the Office of Investment Affairs, before serving as special assistant to then-Deputy Secretary of State Strobe Talbott during the Clinton administration.
She had her first posting to Rome in 2000 as an economic counselor in the embassy there, remaining until 2004. The following year she began two years in Washington as a senior watch officer on the Operations Center of the State Department, specializing in language training. In 2006, Doherty was sent to Moscow, again as economic counselor, including duties as the embassy's terrorism financing coordinating officer. In mid-2008 she was transferred to London as an economic counselor.
Doherty returned to Washington in 2010 as director of the State Department's Office of European Union and Regional Affairs and in September 2011 was made deputy assistant secretary of state for European and Eurasian affairs. She went back to Rome in August 2013 as deputy chief of mission, remaining in that post until her nomination as ambassador.
Doherty will have some fence-mending to do when she takes up her post in Nicosia. Her predecessor, John Koenig, was brought home after sending what some in Cyprus perceived as an insensitive Tweet about the visit of President Nicos Anastasiades to Russia. The tweet linked Anastasiades' meeting with Russian President Vladimir Putin with the implication that Putin ordered the death of Russian opposition leader Boris Nemtsov.
Doherty speaks Spanish, Italian, Portuguese and Russian.
-Steve Straehley
To Learn More:
State Department Cables 2008-2010 (WikiLeaks)
State Department Cables 2006-2008 (WikiLeaks)