U.S. Ambassador to Cuba: Who Is Jeffrey DeLaurentis?
Saturday, October 22, 2016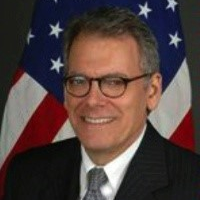 Jeffrey DeLaurentis
Jeffrey DeLaurentis, a career member of the Foreign Service, was nominated on September 27, 2016, to be the first U.S. ambassador to Cuba in more than 50 years.
DeLaurentis is from Orange, Connecticut, and graduated from high school there in 1972. He went on to earn a B.S. in Foreign Service from Georgetown University. One of his first jobs after leaving Georgetown was as an adviser to the New York City Commission for the UN and Consular Corps, where he helped smooth relations between the city and the large number of diplomats stationed there. While in New York, he attended Columbia's School of International and Public Affairs, earning an M.A. DeLaurentis also held a senior staff position at the Council on Foreign Relations.
He joined the State Department in 1991 and his first assignment was as a consular officer at the U.S. Interests Section in Havana. Other early assignments included director for Cuba and Central America at the National Security Council and international relations officer in the Bureau of International Organizations.
DeLaurentis was back in Havana in 1999 and played a crucial role in negotiations between the United States and Cuba over the status of Elian Gonzalez, the young boy who left Cuba with his mother, who died on the journey. Gonzalez was eventually returned to his father in Cuba.
In 2002, DeLaurentis was made representative to the UN Human Rights Commission in Geneva. He was back in Latin America in 2004, this time as a political counselor in the embassy in Bogotá, Colombia. DeLaurentis returned to Washington in 2006 to be executive assistant and chief of staff to the Under Secretary for Democracy and Global Affairs. He was assigned to the UN in New York in 2007 as a minister/counselor for political affairs and as Security Council coordinator. In 2010 he was made Deputy Assistant Secretary of State for the Bureau of Western Hemisphere Affairs.
DeLaurentis was back at the UN the following year, this time with ambassador's rank, as the United States' alternate representative for special political affairs.
His latest stint in Cuba began in 2014, when he was named to head the U.S. Interests Section there. He was named chief of mission in 2015 when diplomatic relations between the countries were resumed. DeLaurentis is seen as an excellent candidate for the post, enjoying good relations with the Cuban government. However, his hopes for a quick confirmation were dashed when Republican senators including Marco Rubio of Florida and Ted Cruz of Texas, both sons of Cuban immigrants, vowed to oppose any ambassador being named to the country.
DeLaurentis' wife Jennifer works in the UN Secretariat. He speaks Spanish, French and Italian.
-Steve Straehley
To Learn More:
Jeffery DeLaurentis: The U.S. State Department's 'Man in Havana' (by Katy Watson, BBC)