U.S. Ambassador to Croatia: Who Is Julieta Valls Noyes?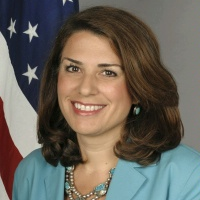 Julieta Valls Noyes, a career member of the Foreign Service, was named as the nominee to be the next U.S. Ambassador to Croatia on March 26, 2015. If she's confirmed, it will be the first such posting for Noyes.
Noyes, the daughter of Cuban refugees, graduated from Wellesley College in 1984 and joined the Foreign Service the following year. In a later interview, she credited doing service work in Guatemala as a teen with inspiring her career in diplomacy. Her first posting was as vice consul in the U.S. consulate in the border city of Ciudad Juárez, Mexico. In 1987, she was sent to the embassy in Guatemala City, Guatemala as political officer before being brought home in 1989 as the Panama desk officer in the Bureau of American Republics Affairs. She returned to Mexico in 1993 as the assistant press officer in the embassy in Mexico City.
Noyes had her first taste of European diplomacy in 1995, when she began serving as the State Department's desk officer for Greece. Two years later, she was posted as political officer at the U.S. embassy in Madrid, Spain. Noyes returned to Latin America in 1999 as the political section chief of the embassy in Panama City, Panama.
She returned to Washington in 2002 as deputy director in the Office of Policy Planning and Coordination, Bureau of Western Hemisphere Affairs. In 2004, Noyes took a year off to work on her Master's degree at the National Defense University, graduating in 2005. She then was made director of the Office of Multilateral and Global Affairs, Bureau of Democracy, Human Rights and Labor at the State Department. In 2007, Noyes was made deputy director of the State Department Operations Center.
Noyes went overseas again in 2008 as the deputy chief of mission and chargé d'affaires in the U.S. mission to the Holy See. She made some news when some cables she had sent concerning the Vatican were released through WikiLeaks. Among the subjects covered in her pithy cables were the Catholic priests' sex abuse scandal in Ireland and the Vatican's assistance in releasing U.S. citizens being held by Iran.
She returned to Washington in 2011 as the deputy executive secretary in the State Department, responsible for preparing briefing materials for the Secretary of State and planning travel for the secretary.
In July 2013, Noyes took over as deputy assistant secretary for European and Eurasian Affairs. She made more news in this post when in late 2014 she was quoted as saying air strikes on oil pipelines held by ISIS were "a viable option."
Noyes is married to Nick Noyes, a retired Foreign Service officer. They have three children: Alexandra, Nicholas and Matthew. Noyes speaks Spanish, Italian, Portuguese, and some French.
-Steve Straehley
To Learn More:
Testimony to Senate Foreign Relations Committee (pdf)
State Department Cables 2006-2010 (WikiLeaks)