U.S. Ambassador to Burundi: Who Is Anne S. Casper?
Wednesday, September 21, 2016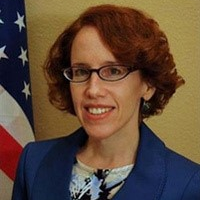 Anne S. Casper
Anne S. Casper, a career member of the Foreign Service, was confirmed June 29, 2016, as the U.S. ambassador to Burundi. It will be her first such assignment.
Casper was born in 1965 and is from Las Vegas, Nevada, daughter of Ilene and Charles Casper. Her brother, Larry, is an assistant U.S. Attorney. Casper attended Tufts University, graduating in 1987 with a B.A. in anthropology. She went on to earn an M.A. from the Johns Hopkins University School of Advanced International Studies in 1992 and joined the Foreign Service the following year.
Casper's early assignments included postings as a political/military officer in Tirana, Albania; deputy public affairs officer at the consulate in Jerusalem; and as cultural affairs officer in Damascus, Syria. In 2001, she was made counterterrorism policy officer in the Office of the Coordinator for Counterterrorism and the following year became Arabic media liaison officer in the Bureau of Near Eastern Affairs, a post she held until 2004.
After earning an M.S. at the National War College in 2005, Casper was sent to Bangkok, Thailand, as a public affairs counselor. In 2009, she was named deputy chief of mission at the embassy in Kigali, Rwanda. While there, Casper's husband, Karl Deringer, began volunteering in local villages and eventually won a State Department award for his efforts.
Casper moved to Jeddah, Saudi Arabia in 2012 as the consul general there. She returned to Washington in 2014 as the deputy assistant secretary for international media and the following year was named senior adviser in the Center for Strategic Counterterrorism Communications. In 2016, the role of acting director of partnerships in the Global Engagement Center was added to her duties.
Casper is known in the State Department for intensely studying the language and customs of every country in which she serves. She speaks Arabic, French, Thai, Hebrew and Kinyarwanda, a Rwandan language.
-Steve Straehley
To Learn More: