U.S. Ambassador to Bulgaria: Who Is Eric Rubin?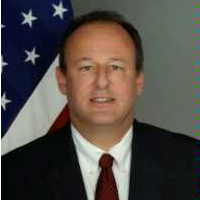 Eric Seth Rubin was nominated Sept. 15, 2015, to be the next U.S. ambassador to Bulgaria. If he's confirmed by the Senate, it will be the first such posting for the expert on Eastern Europe.
Rubin graduated from New Rochelle (New York) High School and then attended Yale. He graduated from there in 1983 with a BA in history and subsequently spent two years as a reporter trainee at The New York Times.
Rubin gave up the life of a newsman in 1985 to join the Foreign Service. His first overseas assignment was as political and human rights officer in Honduras from 1986 to 1988. Following that, he returned to Washington for several years, first to work in the State Department Operations Center. In 1989 Rubin moved to the Office of Soviet Union Affairs and in 1991 was made regional and security affairs officer for Central and Eastern Europe.
Rubin put his expertise on Eastern Europe into practice in 1994 when he was assigned to be deputy political counselor in the U.S. embassy in Kyiv, Ukraine. Two years later, Rubin was back in Washington working as special assistant to the Assistant Secretary for European and Canadian Affairs.
He had the opportunity to use some of his newspaper experience when he moved to the White House in 1997 as the assistant press secretary for foreign affairs and the National Security Council's director for public affairs. In 1998, Rubin was named special assistant to the Under Secretary of State for Political Affairs.
Rubin was able to step away from the State Department a bit in 1999 when he was named the resident associate and Rusk fellow at the Institute for the Study of Diplomacy at Georgetown University.
He returned to regular duty at the State Department in 2001, but was moved out of his main area of expertise when he was named consul general at the consulate in Chiang Mai, Thailand, where he remained until 2004.
After that assignment, Rubin returned to Washington as director of the Office of Policy Planning and Coordination in the Bureau of International Narcotics and Law Enforcement Affairs, where he coordinated with other nations on law enforcement efforts related to drugs. In 2006, Rubin was named executive assistant to the Under Secretary for Political Affairs.
Rubin was sent to Moscow in 2008 as deputy chief of mission there and in 2011 was brought back to Washington to serve as Deputy Assistant Secretary in the Bureau of European and Eurasian Affairs, where he was at the time of his nomination.
Rubin and his wife, Nicole Simmons, an associate at Johns Hopkins Bloomberg School of Public Health, have two children. He speaks Thai, French, Spanish, Ukrainian and Russian.
-Steve Straehley
To Learn More: