U.S. Ambassador to Brazil: Who Is P. Michael McKinley?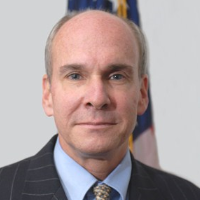 Michael McKinley
Peter Michael McKinley, a career member of the Foreign Service, was confirmed on September 8, 2016, to be the U.S. ambassador to Brazil. It's his fourth such posting.
The new job is a good fit for McKinley. He was born in Venezuela to Peter and Enriqueta McKinley in 1954 and grew up in Brazil, Mexico and Spain, as well as in the United States. He went to college in Great Britain, earning a B.Sc. in history, politics and economics from the University of Southampton in 1975. For graduate school, McKinley attended Oxford and earned MPhil and DPhil degrees in Latin American Studies, finishing in 1982. He wrote a book, Pre-Revolutionary Caracas: Politics, Economy, and Society, 1777-1811, that was published in 1985.
McKinley joined the Foreign Service right after leaving Oxford, with his first assignment coming in Bolivia in 1983 as a consular and general services officer. He returned to Washington in 1985, first as an intelligence and research analyst dealing with El Salvador and Cuba. In 1987, he was made a desk officer for Angola and Namibia and two years later he was appointed special assistant for Africa for the Under Secretary of Political Affairs.
In 1990, McKinley was sent to London and covered the Labour Party and Africa for the embassy there. He went to Africa in 1994 as the deputy chief of mission in Mozambique. While there, he helped pressure the government to sign a natural gas pipeline deal with Enron. In 1997, he went to Uganda as deputy chief of mission, and in 2000 he took a similar role in the embassy in Brussels, Belgium.
McKinley was brought home in 2001 to serve as deputy assistant secretary in the Bureau of Population, Refugees and Migration. He returned to Brussels in 2004, this time as deputy chief of mission at the U.S. mission to the European Union.
McKinley got his first ambassadorial post in 2007 in Lima, Peru. Shortly after assuming his post, he helped coordinate the U.S. response to the August 2007 earthquake. In September 2010, he was sent to Colombia to serve as ambassador there.
McKinley went to Afghanistan in September 2013 as deputy ambassador. He was nominated as ambassador the following May and was confirmed in December 2014. During his tenure there, McKinley was the face of U.S. efforts to rebuild Afghanistan even as fighting continued in some areas. He also promoted the expansion of women's rights in that nation.
McKinley's wife, Fatima Salces Arces, was born in Bolivia. They have three children: Claire, Peter and Sarah. McKinley speaks Spanish, French and Portuguese.
-Steve Straehley
To Learn More: