Ukraine's Ambassador to the United States: Who Is Valerii Chalyi?
Tuesday, January 19, 2016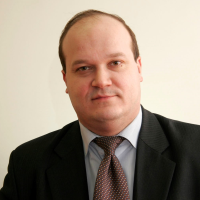 Valerii Chalyi
Valerii (sometimes spelled Valeriy) Chalyi presented his credentials as Ukraine's ambassador to the United States to President Barack Obama on Aug. 3, 2015. It's the first overseas posting for Chalyi, a foreign policy expert.
Chalyi was born July 1, 1970, in Vinnytsia, a city in western Ukraine. He attended the Vinnytsia State Institute of Pedagogy, graduating with a history degree in 1992. He went on to do post-graduate work in international law at the National Taras Shevchenko University of Kyiv, Institute of International Relations, finishing there in 1995.
At that time, he became a senior consultant to the Ukrainian president's assistants' group. In 1997, Chalyi was made assistant to the deputy secretary of the National Security and Defense Council.
Chalyi left the government in 1999 to work at the Razumkov Center, a think tank in Ukraine. Razumkov would become Chalyi's landing spot whenever he would leave government posts during his career. His first job there was as director of international programs. Beginning in 2000, Chalyi was also an adviser to Verkhovna Rada, Ukraine's parliament, on foreign relations issues.
In 2009, he went to work for President Viktor Yanukovych as deputy minister for foreign affairs. Chalyi resigned in 2010 in protest of Yanukovych's policies. Yanukovych was chased from office in 2014 for siding too closely with the Russians as Ukraine oriented itself toward the West.
Chalyi returned to the Razumkov Center as its deputy director general for foreign policy, international law and security issues.
In 2014, Chalyi became a foreign policy adviser to presidential candidate Petro Poroshenko and was named his deputy chief of staff when Poroshenko was elected to office. Chalyi remained in that role until being sent to Washington.
Chalyi speaks Ukrainian, Russian and English.
-Steve Straehley
To Learn More: