Surgeon General of the United States: Who Is Vivek Murthy?
Thursday, December 25, 2014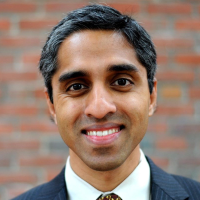 Dr. Vivek Hallegere Murthy, whose nomination was held up for more than a year because of intense lobbying by the National Rifle Association (NRA), was finally confirmed as surgeon general on December 15, 2014.
Murthy was born July 10, 1977, in Huddersfield, England, where his parents had settled after immigrating from Karnataka, India. The family moved to Miami when Murthy was 3 years old. His father, Hallegere, was a physician and his mother, Myetraie, worked in the medical practice. Murthy attended public schools in Miami, going from Palmetto Middle School to Miami Palmetto High School. Murthy, who graduated in 1994, was the class valedictorian and his speech to class members showed an early concern on the effects of violence on young people when he decried the bloodshed depicted in children's cartoons.
Murthy went on to Harvard, where he earned a degree in biochemical science in three years, graduating in 1997. He remained at the school for a time doing research into a vaccine for staphylococcus, a type of bacteria that often occurs in post-operative patients. Murthy then went to Yale to get a medical degree combined with a master's in business administration, which he received in 2003. While still an undergraduate, Murthy, with his sister Rashmi, founded VISIONS Worldwide, a nonprofit group dedicated to educating people in India and the United States on AIDS and HIV issues.
Murthy returned to Harvard, doing his internship and residency at Brigham and Women's Hospital, remaining there as a hospitalist and instructor until becoming surgeon general. Hospitalists specialize in the care of hospital patients.
In 2007, he co-founded TrialNetworks, a startup that developed software to help pharmaceutical developers collect data about drug clinical trials.
Murthy founded Doctors for Obama in 2008 to back the then-candidate in his race against Sen. John McCain (R-Arizona) for president. The organization morphed into Doctors for America, which backs healthcare initiatives supported by Obama. In 2011, Dr. Murthy was appointed to serve as a member of the Advisory Group on Prevention, Health Promotion, and Integrative and Public Health.
In January 2013, Murthy co-authored a letter (pdf) from Doctors for America to members of Congress urging action to institute gun-safety measures in the wake of the Sandy Hook shootings. When his nomination for surgeon general was announced on November 13 of that year, the NRA and its allies swung into action. The organization declared that it would "score" the vote for Murthy's confirmation and take action against those senators who supported him. The controversy caused the nomination to be put on the back burner with many Washington insiders saying it was all but dead. Thanks to some political maneuvering on the part of Senate Majority Leader Harry Reid (D-Nevada), one of his last acts before losing his job to incoming Majority Leader Mitch McConnell (R-Kentucky) was to get a vote on Murthy's nomination. He passed with 51 votes for and 43 votes against. Only one Republican, Mark Kirk of Illinois, voted in favor of confirmation, while three Democrats voted against Murthy.
If nothing else, Murthy, who is single, sets a good example as "the nation's doctor." Much of his diet consists of healthy foods, such as raw vegetables and high-protein grains, and he does yoga exercises each day. His sister, Rashmi, is also a physician, working as a family practitioner in the Miami area.
-Steve Straehley
To Learn More:
High Praise At Home for Surgeon General Nominee (by Patricia Wen and Noah Bierman, Boston Globe)