South Africa's Ambassador to the United States: Who Is Mninwa Johannes Mahlangu?
Sunday, February 22, 2015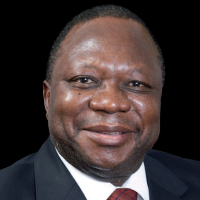 Mninwa Johannes Mahlangu was appointed South Africa's ambassador to the United States in October 2014. It's the first ambassadorial posting for Mahlangu, a career politician.
Mahlangu, known as "MJ," was born October 8, 1952, in Middleburg, Mpumpalanga. He attended Botshabelo Training College and studied photography and religious education at Damelin College. Mahlangu started his political career as an activist with the Student Christian Movement, and he was made president of the organization from 1969 to 1973. He also became a member of the African National Congress (ANC).
He began work as a clerk for the Ndebele Tribal Authority from 1972 to 1973. He then went into teaching, first at Zenzeleni High School from 1973 to 1976 and at St. Paul High School from 1977 to 1978. Mahlangu then began work for the Ellerines furniture company in sales and later as credit controller.
Mahlangu was elected to the Lebowa parliament in 1982. Lebowa was one of the so-called homelands set up by the white-ruled Republic of South Africa as ostensibly independent countries. Mahlangu served as deputy speaker of the parliament from 1987 to 1988 and speaker in 1989, was home affairs minister from 1990 to 1991 and was education minister in 1992-1993, after which he was minister of public services.
Mahlangu was elected to South Africa's parliament in 1994 and was part of the group that drafted the country's post-apartheid constitution. He served in that body until 2003.
Mahlangu was then appointed deputy chairman of the National Council of Provinces, the upper house in South Africa's legislature and became chairman in 2005. The following year, Mahlangu was criticized for allowing only President Thabo Mbeki to speak at a joint session of the South African legislatures. Members of parties other than the ruling ANC said Mahlangu had ignored the constitutional requirement of multipartyism. Mahlangu survived the attacks and served as chairman until retiring from the council in 2014.
Mahlangu and his wife, Nomaswazi, had five children. Their eldest daughter, Busisiwe Milanzi, was an assistant to the deputy social development minister when she was killed in an auto accident in August 2011.
In his official biographies, Mahlangu has claimed that he earned a Bachelor of Arts degree from University of Fairfax in 1995, but this was actually an unaccredited diploma mill.
-Steve Straehley
To Learn More: