Peru's Ambassador to the United States: Who Is Carlos Pareja?
Thursday, December 29, 2016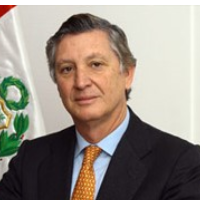 Carlos Pareja
Carlos Pareja Rios, a long-time member of his country's Foreign Service, was appointed as Peru's ambassador to the United States on September 8, 2016.
Pareja was born July 7, 1950. It should be no surprise he grew up to be a diplomat—his father, Jose Pareja Paz-Soldan, was a prominent member of Peru's foreign ministry who served as an ambassador and director of the Diplomatic University of Peru, which his son eventually attended. The elder Pareja was also a constitutional scholar and helped write Peru's political charter in 1979.
Carlos Pareja attended Lima's Marist College of San Isidro and, in 1969, Pontificia Universidad de Peru, where he earned a B.A. degree. He went on to get a master's in diplomacy and foreign relations from the Diplomatic University of Peru in 1976 and a bachelor of laws from the Universidad de San Martin de Porres in 1977.
Pareja has served in Washington before. From 1984 to 1990, he was a political counselor in the embassy there. His next assignment was back in Lima, as director of South American affairs in the Ministry of Foreign Affairs. From 1993 to 1997, he served in the embassy in Santiago, Chile, as a minister-counselor. Pareja then returned to Peru as the chief of cabinet for the Vice Minister of foreign affairs. The following year, he was made national director in the Directorate General of Sovereignty and Border Development.
Pareja got his first ambassadorial assignment in 2000 in Madrid, and in 2003 was moved to a similar post in Switzerland. He returned to Lima in 2006 to become chief of protocol.
In 2009, Pareja received a very consequential assignment—he was made ambassador to neighboring Chile. He hadn't been there long when he was recalled because a member of Peru's armed forces was accused of spying for Chile. Pareja wasn't gone long; he returned to Santiago after about a month. Much of Pareja's energies were spent in negotiations with Chile over a disputed maritime boundary. He worked on it throughout his tenure and the International Court of Justice decided it mostly in Peru's favor in 2014. Also that year, Pareja returned to the foreign ministry as Director General for the Americas. The following year, he was moved to the same job in the Directorate General for Africa, the Middle East and the Gulf, a post he held until coming to Washington.
Pareja was married in 1979 to Consuelo Salinas. They have two sons, Juan and Jose. Pareja speaks Spanish, English and some French.
-Steve Straehley
To Learn More: