Malawi's Ambassador to the United States: Who Is Necton Mhura?
Saturday, November 14, 2015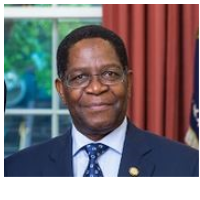 Necton Mhura
Necton Mhura presented his credentials as Malawi's ambassador to the United States on May 18, 2015. He's also his country's representative to the Bahamas, Canada, the Dominican Republic, and Mexico.
Mhura, who counts a Master of Laws degree from the University of London among his credentials, held government posts including Commissioner of Lands and deputy head of the Civil Service. He also helped negotiate his country's compact with the Millennium Challenge Corporation, a U.S. aid fund aimed at stabilizing the governments of poor countries through economic development.
Mhura was serving as Deputy Secretary to the Office of the President and Cabinet when Malawi President Bingu wa Mutharika died of an apparent heart attack on April 5, 2012. The death was not immediately announced and cabinet members held meetings discussing a coup in which Vice President Joyce Banda would be passed over for the presidency and someone else installed in her place, but Banda assumed office on April 7.
Mhura was arrested along with 11 others suspected of plotting the coup in March 2013. The following November, his name was dropped from the list of those charged. In fact, the whole treason trial was eventually abandoned and one of the "plotters," Mutharika's brother, Peter, won the next election, replacing Banda.
Mhura was Dean of Faculty at Chancellor College School of Law at the University of Malawi. He took on the defense of some of those implicated in Malawi's "Cashgate" scandal in which officials in Banda's government and others were accused of money laundering and theft of public funds. There is some speculation that Mhura's appointment to Washington was a way to delay Cashgate trials.
Mhura's main role in Washington has been to encourage U.S. investment in Malawi.
He enjoys playing golf.
-Steve Straehley
To Learn More:
Necton Mhura Omitted From Malawi Treason Case (Nyasa Times)