Lithuania's Ambassador to the United States: Who Is Rolandas Kriščiūnas?
Wednesday, January 20, 2016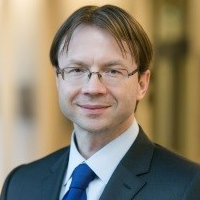 Rolandas Kriščiūnas
Rolandas Kriščiūnas assumed his role as Lithuania's ambassador to the United States on Aug. 3, 2015. It's the first such post for Kriščiūnas.
Kriščiūnas was born Oct. 16, 1970, in Panevėžys, Lithuania. He attended college at Vytautas Didysis University in Kaunas, Lithuania, earning a bachelor's degree in business informatics in 1993.
Kriščiūnas joined his country's Ministry of Foreign Affairs shortly thereafter and was a third secretary in the Economic Department's Economic Analysis Division. The following year, he took time out to go to the United States and study economics at Ohio University. He graduated with a master's degree from there in 1996. He also completed European Union studies at the Clingendael Institute of International Relations at The Hague, The Netherlands. He then returned to the Economic Analysis Division as a first secretary.
His first Washington assignment came in 1998, when he was stationed at his country's embassy as a first secretary. Kriščiūnas returned to Lithuania in 2001, but this time to the Finance Ministry, where he was the director of the European Union Program Management Department.
In 2004, he was named an undersecretary of finance. In 2008, toward the end of his tenure at that post, he completed a management studies program at The Swedish Institute in Stockholm. The following year he was named vice minister at the Finance Ministry.
He returned to the Ministry of Foreign Affairs in 2012 as a vice minister, and remained in that job until being posted to Washington.
Kriščiūnas is married; he and his wife Živilė Kriščiūnienė have a son, Julius Herkus. Kriščiūnas speaks Lithuanian, Russian, English and French.
-Steve Straehley
To Learn More: