Librarian of Congress: Who Is Carla Hayden?
Saturday, October 08, 2016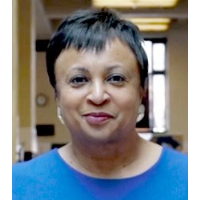 Carla Hayden
Carla D. Hayden was sworn in as Librarian of Congress on Sept. 14, 2016. She's the first woman and the first African-American in that job.
Hayden was born August 10, 1952, in Tallahassee, Florida, and moved with her family to Queens, N.Y. By age 10, she and her family settled in Chicago. Hayden attended Roosevelt University there, graduating in 1973 with a B.A. in political science. She then went to work for the Chicago Public Library as an associate librarian and children's librarian. She also continued her education, earning an M.A. in 1977 and a Ph.D. in 1987 from the University of Chicago. In 1979, Hayden was named young adult services coordinator for the library. She left the Chicago Public Library in 1982 to become library services coordinator for that city's Museum of Science and Industry.
Upon earning her doctorate, Hayden left Chicago to become an associate professor in the School of Library and Information Science at the University of Pittsburgh. However, she returned to the Chicago library in 1991 as its Deputy Commissioner and Chief Librarian.
In 1993, there were plans to make her the city's Library Commissioner, but holdups caused Hayden to accept a similar position as Executive Director of the Enoch Pratt Free Library in Baltimore, where she remained until going to the Library of Congress.
Hayden became one of the most vocal critics of the Patriot Act, passed in the wake of the 9/11 attacks, which included language allowing the Federal Bureau of Investigation access to library records and forbade library personnel from disclosing to patrons that they were targets of investigators. She continued to fight the law when in 2003 she was elected to a one-year term as the President of the American Library Association.
Another regulation opposed by Hayden during her tenure as the group's leader was the Children's Internet Protection Act (CIPA), which required libraries receiving federal funding to put anti-pornography filters on their computers. Hayden pointed out that the crude filters then available would make it impossible, for instance, for women to research breast cancer.
As a prominent Chicagoan, Hayden had become friends with Barack and Michelle Obama. President Obama named her to the National Museum and Library Services Board in 2010, and in February 2016, he nominated his old acquaintance to lead the Library of Congress. Hayden's nomination didn't go smoothly. In addition to the usual Republican reluctance to confirm an Obama appointee, some conservatives objected to her opposition to the CIPA. Others claimed the former professor didn't have the academic credentials necessary for the job, with Heritage Foundation fellow Hans von Spakovsky saying the job should be held by "a man of letters."
Hayden was finally confirmed by the Senate on July 13, 2016. She will be the first person to serve a 10-year term in that post; previously the librarian was appointed for life. Hayden has a difficult job, given that the Library of Congress has been slow to adopt new technologies.
To Learn More:
Carla D. Hayden Biography (Brief Biographies)
Hayden Glides Through Senate Confirmation Hearing to Lead Library of Congress (by Colin Campbell, Baltimore Sun)
Five Things to Know About Carla Hayden, America's First Black, Female Librarian of Congress (by Ethan Chiel, Fusion)