Laos' Ambassador to the United States: Who Is Mai Sayavongs?
Sunday, November 29, 2015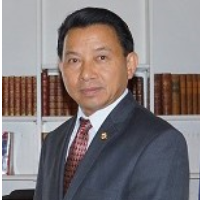 Mai Sayavongs
Mai Sayavongs, a longtime member of his country's foreign service who has frequently been posted to Washington, was appointed in July 2015 to be Laos' ambassador to the United States. He presented his credentials to President Barack Obama on Aug. 3.
Sayavongs was born June 5, 1962, in Laos' Houaphanh province. Houaphanh is in the northeastern part of Laos and is partly surrounded by neighboring Vietnam.
Sayavongs began working with Laos' Ministry of Foreign Affairs in 1982. He was sent to the then-Soviet Union for education, earning an MA in international relations from the Moscow State Institute of International Relations in 1988. Upon his return to Laos, Sayavongs was a desk officer in the ministry's Department of International Organizations. During this period, he also served as a member of the Laos-Myanmar Boundary Demarcation Commission and as a member of Laos' National Commission for Drug Control and Supervision. He took time to earn another MA, this one in Asia and international studies from Griffith University in Brisbane, Australia, in 1996.
The next year, Sayavongs began his first tour in Washington, starting as a third secretary in the embassy and moving up to second secretary in 2001. He returned to Laos in 2003 to be director of the Americas Division in the ministry in Vientiane and the following year was made deputy director general for Europe and the Americas.
Sayavongs returned to Washington in 2009 as a minister-counselor and deputy chief of mission at the embassy. He was back in Vientiane in 2012 as deputy director general of the ministry's Asia-Pacific and Africa department and became director general in 2013, a post he held until being named as ambassador to the United States.
Sayavongs, a Buddhist, is married. He and his wife, Soumaly, have two children. Sayavongs speaks English, Russian, and Lao. He enjoys playing golf.
-Steve Straehley
To Learn More: