Kyrgyzstan's Ambassador to the United States: Who Is Kadyr Toktogulov?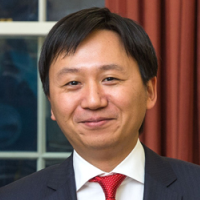 Kadyr M. Toktogulov's credentials to be Kyrgyzstan's ambassador to the United States were accepted by President Barack Obama on February 23, 2015. It's the first diplomatic post of any kind for Toktogulov.
Toktogulov was born April 28, 1980, in Osh, Kyrgyzstan, in the southern part of the former Soviet republic. He became interested in journalism by doing some work in radio while in high school in Osh. He then attended college at American University of Central Asia (AUCA), taking advantage of exchange programs at Turkey's Ankara University and Ithaca College in New York and was part of Amnesty International's chapter at AUCA. He graduated from AUCA with a B.A. in mass communications in 2003.
Toktogulov went to work as a correspondent for the Associated Press in his country, neighboring Kazakhstan and elsewhere in the region, covering, among other subjects, the Russian space program located in Kazakhstan since before the breakup of the Soviet Union. He also covered protests against early Kyrgyzstan presidents and the Orange Revolution in Ukraine. Beginning in 2006, Toktogulov began working for The Wall Street Journal and Dow Jones News Service in the region, and he covered the overthrow of President Kurmanbek Bakiyev in April 2010.
In 2011, Toktogulov began serving as press secretary to Kyrgyzstan's prime minister, Almazbek Atambayev, and worked for Atambayev's presidential campaign. When Atambayev won election in October 2011, Toktogulov returned to being his press secretary. He held that job until late 2014, when he was appointed to the Washington position.
Toktogulov speaks Russian, Turkish and English, in addition to Kyrgyz.
-Steve Straehley
To Learn More:
Kadyr Toktogulov's Twitter Account
Spotlights: Kadyr Toktogulov (American University of Central Asia)