Italy's Ambassador to the United States: Who Is Armando Varricchio?
Saturday, November 05, 2016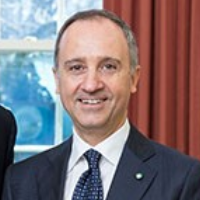 Armando Varricchio
Armando Varricchio, a longtime member of Italy's diplomatic corps, presented his credentials as his country's ambassador to the United States on March 2, 2016. He is also accredited to the Bahamas and Jamaica.
Varricchio was born June 13, 1961, in Venice. He earned a degree in international relations in 1985 from the University of Padua, where he met his wife, Michaela. After graduation, he went to work as the assistant to the CFO of the Marzotto Group, a textile company. But he wanted to join the Foreign Service, so quit his job to study for the test.
Varricchio eventually passed, and his first assignment, beginning in 1986, was as second secretary in the embassy in Budapest, Hungary. In 1992, he was made first secretary in Italy's mission to the European Commission. He returned to Rome in 1996 to be a counselor at the European and Asia desk in the Prime Minister's office. In 1998, he was named chief of staff for the Minister of European Affairs and the following year was made diplomatic adviser to European Commission President Romano Prodi.
Varricchio was assigned to Washington for the first time in 2002 as first counselor in the embassy's Economic, Trade and Scientific Affairs section. In 2006, he was made deputy diplomatic adviser to President Giorgio Napolitano.
Varricchio's first ambassadorial post came in 2009, when he was sent to Belgrade, Serbia. While there, he advocated for Serbian membership in the European Union. By 2016, that country was a candidate member. He returned to Italy in 2012 as deputy secretary general of the Ministry of Foreign Affairs. The following year, he was made diplomatic adviser to Prime Minister Enrico Letta.
Varricchio and his wife have two sons, Federico and Umberto. Varricchio enjoys playing tennis.
-Steve Straehley
To Learn More: