India's Ambassador to the United States: Who Is Subrahmanyam Jaishankar?
Saturday, August 30, 2014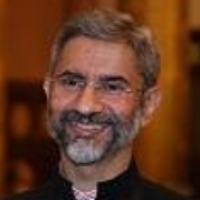 Subrahmanyam Jaishankar, a long-time member of India's Foreign Service, assumed his duties as that country's ambassador to the United States in December, 2013. It is the fourth chief-of-mission post for Jaishankar.
Jaishankar was born January 9, 1955, in New Delhi. His father, K. Subrahmanyan, was considered by many to be the "father of Indian strategic thought," and was the author of India's nuclear doctrine. Jaishankar has two brothers; S. Vijay Kumar, who in 2013 retired from government service after a career that included being secretary of mines and secretary of rural development, and Sanjay Subramanyan, a prominent historian.
Jaishankar graduated from the University of Delhi's St. Stephen's College and subsequently earned master's degrees in political science and international relations and a Ph.D. in international relations from Jawaharlal Nehru University, specializing in nuclear diplomacy.
He joined the Ministry of External Affairs (MEA) in 1977, with his first overseas posting in Moscow as the third and then second secretary at the Indian Embassy. Jaishankar returned to India as an undersecretary and policy planner in MEA's Americas division. That experience was put to good use in his next assignment, in 1985, as first secretary in the Indian Embassy in Washington, where he served for three years. In 1988, he was first secretary and political advisor to the Indian Peace Keeping Force in Sri Lanka as part of the war between that nation's military and the Tamil Tiger rebels.
Jaishankar was sent to Budapest in 1990 as commercial counselor in the embassy to Hungary. He returned home in 1993 as director of MEA's Eastern European division and subsequently as the press secretary to Indian President Shankar Dayal Sharma.
In 1996, Jaishankar was named deputy chief of mission in India's embassy in Tokyo. He won his first ambassadorial post in 2000 when he was made the Indian envoy to the Czech Republic. While there, he accused the United States government in January 2003 of having an "obsession with Iraq" while ignoring the terrorist training and support pipeline that ran through Pakistan and Afghanistan. Jaishankar served in Prague until 2004, when he returned to the MEA as director of the Americas division. In 2007, Jaishankar was made India's High Commissioner, the equivalent to ambassador, to fellow British Commonwealth member Singapore.
Jaishankar was sent to Beijing in 2009 as India's ambassador to China. While there, he performed a balancing act between encouraging business ties between the countries and helping to mediate disputes centering on the nations' common border and other issues. Jaishankar ended up being India's longest-serving envoy to China.
As his tenure in Beijing was ending, Jaishankar was under consideration to become foreign minister under then-Prime Minister Manmohan Singh. However, internal pressures from members of Singh's government who had served slightly more time in the Foreign Service scuttled the appointment.
Jaishankar had no honeymoon upon arriving in Washington. The first crisis he had to deal with was the arrest and jailing of Deputy Consul General Devyani Khobragade, who was arrested in New York for visa fraud in connection with her housekeeper Sangeeta Richard. Khobragade's case caused a serious rift in U.S.-Indian relations after she was arrested, strip-searched and held before being released on bail. Jaishankar worked to negotiate Khobragade's return to India.
Jaishankar is married to Kyoko Jaishankar. He has two sons, Dhruva, a senior fellow at the German Marshall Fund in Washington, D.C., and Arjun, a teenager; and a daughter Medha, who is an executive with Reliance Entertainment. In addition to English, Jaishankar speaks Russian, Tamil, Hindi, Mandarin and a bit of Japanese and Hungarian.
-Steve Straehley
To Learn More:
S. Jaishankar to be India's Next Envoy to Washington (by Seema Sirohi, First Post)