India's Ambassador to the United States: Who Is Arun Singh?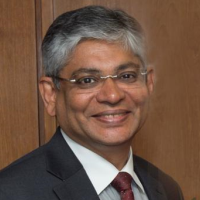 Arun Kumar Singh was appointed as India's ambassador to the United States on April 30, 2015. It's the third ambassadorial posting for the long-time member of his country's foreign service and his third term in the United States.
Singh began attending the University of Delhi in 1972 and graduated with a master's degree in economics in 1977. He remained at the university to teach for two years until he entered the Foreign Service.
He requested a post requiring the Russian language and got it, being posted to Moscow in 1981. The following year he was sent to Addis Ababa, Ethiopia, and in 1985 Singh moved to Tokyo as first secretary in the Indian embassy there.
Singh returned to India in 1988 as a deputy secretary in the Ministry of External Affairs' East Asia and Pakistan divisions. In 1991, he moved to the offices of the Foreign Secretary and External Affairs Minister.
His first U.S. posting came in 1993, when he was assigned to India's permanent mission to the United Nations in New York. He remained there four years until returning to the Moscow embassy as a counselor/minister.
In 2000, Singh returned to the Ministry of External Affairs to serve as joint secretary for U.N. policy and later to lead the Pakistan, Afghanistan and Iran division. He worked on peace negotiations with Pakistan, including a noteworthy trip there.
Singh's first posting as ambassador was to Israel in April 2005. He served there until September 2008, when he returned to the United States as deputy chief of mission in the Indian embassy in Washington. Singh made news when he was linked through photographs with Michaele and Tareq Salahi, who crashed a November 2009 White House state dinner given in honor of the Indian prime minister. Singh served for a time as chargé d'affaires before Nirupama Rao assumed her post as ambassador in August 2011.
Singh went to Paris in 2013 as ambassador there, a position he held until being appointed to head India's mission in Washington.
Singh and his wife, Maina Chawla Singh, have a daughter. Mrs. Singh was an associate professor at the University of Delhi and is currently a scholar in residence at American University in Washington. She has done research on Indians living in Israel and has written a book, Being Indian, Being Israeli: Migration, Ethnicity and Gender in the Jewish Homeland.
Singh is fluent in Russian and Japanese.
-Steve Straehley
To Learn More: