Ethiopia's Ambassador to the United States: Who Is Kassa Tekleberhan?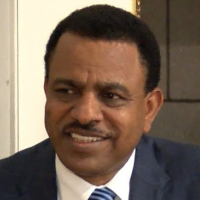 Kassa Tekleberhan Gebrehiwot, a longtime politician and government official, submitted his credentials as Ethiopia's ambassador to the United States on December 11, 2017. It's his first such posting.
Tekleberhan was born in Seqota, in Ethiopia's Amhara region in the western part of the country.
His official biography states that he earned a B.S. in economics from the Ethiopian Civil Service College, however the Ethiopian Embassy in Washington D.C. did not respond to AllGov queries about the date of his graduation. Tekleberhan did gain an M.A. in organizational leadership from Azusa Pacific University, a Christian institution based in California, in 2006.
Tekleberhan joined the Amhara National Democratic Movement, which fought the Derg, a Soviet-backed dictatorship which ruled Ethiopia from 1974 to 1991.
After the fall of the Derg regime, Tekleberhan served in the Ministry of National Defense. He then served in the government of his home state of Amhara, first as head of the Bureau of Administration and Security and later as head of the Bureau of Trade and Industry.
Tekleberhan then served in the House of Federation, eventually as speaker. In October 2015, he was named minister of Federal Affairs and Pastoral Areas Development. There, he promoted a policy of "villagization," moving families from the country into villages. Tekleberhan also served as chairman of the board of Addis Ababa University.
After Ethiopia's longtime leader and human rights abuser Meles Zenawi died in 2012, Tekleberhan became the vice chairman of the Meles Zenawi Foundation. He has also been the chair of the Amhara Development Association.
Tekleberhan is married and has three children.
-Steve Straehley
To Learn More:
Off to Diplomacy (by Neamin Ashenafi, Reporter Ethiopia)