Dominican Republic's Ambassador to the United States: Who Is José Tomás Pérez?
Saturday, February 21, 2015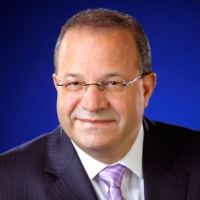 On December 10, 2014, José Tomás Pérez was appointed to be the ambassador to the United States from the Dominican Republic. It's the first foreign service posting for Pérez.
Pérez was born February 14, 1956, in Santiago de los Caballeros, Dominican Republic, the oldest of 10 children. After attending school for a few years in his hometown, he went to the capital, Santo Domingo, to finish at a private school. Pérez's college career was somewhat varied; he first went to college in Santo Domingo pursuing an engineering degree, transferred to another school there to study psychology and finally ended up at Webster University in St. Louis for a master's degree in marketing. Pérez later got a master's degree in higher education from the Technical University of Santo Domingo.
In 1978, Pérez joined the Partido de la Liberación Dominicana (Dominican Liberation Party or PLD), a right-of-center party.
Pérez worked his way up the party hierarchy and by 1994 was in charge of advertising and marketing for the campaign of PLD presidential candidate Juan Bosch. Bosch didn't win, but Pérez continued his party work. In 1997 he was made director general of the Industrial Development Corporation of the Dominican Republic while also doing publicity for the PLD. During this period he was also named the party's general secretary.
Pérez took elective office himself in 2002 as a senator from the Dominican Republic's national district, serving in that office for four years. In 2007 he was made director of his country's Civil Aviation Institute and was later caught up in a controversy for overspending on a headquarters building for his agency.
Pérez twice sought the PLD nomination for president, in 2008 and 2012, but failed to get it both times.
He has taught management and marketing at the Autonomous University of Santo Domingo and founded the Santo Domingo Institute of Technology school of marketing. He has also worked for Horwath, a hospitality consulting firm.
Pérez is married to Caridad Pérez Santos, with whom he has three children: Joscary, Jossel and Carileen. He also has two children from a previous marriage, José Tomás and Roselyn. José Tomás is also a diplomat; he is the Dominican Republic's deputy ambassador to international organizations.
-Steve Straehley
To Learn More:
José Tomás Pérez (Wikipedia—Spanish)