Director, Office of Infrastructure Protection: Who Is Caitlin Durkovich?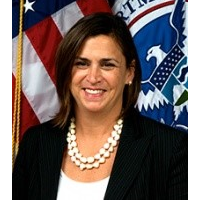 Caitlin Durkovich
Caitlin Durkovich was appointed director of the Office of Infrastructure Protection in the Department of Homeland Security (DHS) in May 2012.
Durkovich is from Albuquerque, New Mexico, where her father was an attorney. She was a volleyball player at St. Pius X High School there and went on to major in public policy studies at Duke University. She earned her B.A. at Duke's Terry Sanford Institute of Public Policy in 1994 and interned at a local television station.
Durkovich also interned for the Democratic Leadership Council and went to work for the organization full time after graduation. The council developed many of the Clinton administration policy initiatives and Durkovich worked on its early digital efforts. Other early jobs included working for A2S2 Digital Projects and internet startup Policy.com. In 1998, Durkovich was named vice president for business development for information security firm iDefense, now Verisign. Beginning in 2001, she spent a year as director for business development for Internet Security Alliance.
Durkovich moved to Booz Allen Hamilton in 2002 as an associate who worked on such projects as a pandemic influenza continuity of operations plan for the Federal Emergency Management Agency and security for the Internal Revenue Service. In 2006, she moved over to DHS contractor Abrams Learning and Information Systems as director of emergency management.
In 2011, Durkovich went to work directly for DHS as chief of staff in the National Protection and Programs Directorate, a job she held until taking over at the Office of Infrastructure Protection.
As director, Durkovich is in charge of tasks such as teaching schoolchildren how to survive during a mass shooting and stopping ISIS attempts to hack the U.S. power grid. She also testified to Congress on the 2013 mass shooting at the Washington Navy Yard, in which 12 people were killed.
Durkovich is married to Simon Rosenberg, who is founder of the progressive think tank NDN. In 2005, Rosenberg made a run at the chairmanship of the Democratic National Committee, which eventually went to Howard Dean. They have three children.
-Steve Straehley
To Learn More:
Caitlin Durkovich PPS '94 Safeguards America's Infrastructure (by Adam Beyer, Duke-Sanford School of Public Policy)