Director of U.S. Immigration and Customs Enforcement: Who Is Sarah Saldaña?
Saturday, November 08, 2014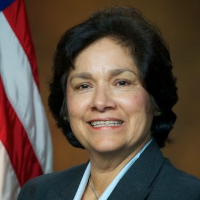 On September 17, 2014, the Senate Homeland Security and Governmental Affairs committee heard the testimony of Sarah R. Saldaña to be the director of Immigration and Customs Enforcement.
Born in 1951, Saldaña, the youngest of seven children, is from Corpus Christi, Texas. Her father, Luis, was a plumber and her mother, Inez Garcia Saldaña, was a nurse. Saldaña graduated from W.B. Ray High School in 1970 and went on to attend Del Mar Junior College. She graduated from Texas A&I University in 1973, earning a degree in only three years.
She taught 8th grade language arts at D.A. Hulcy Middle School in Dallas for a year, but in June 1974 began working for the Equal Employment Opportunity Commission (EEOC) as a technician. In 1975 she was a management intern for the Department of Housing and Urban Development and late that year went back to the EEOC as an investigator. From 1976 to 1981, Saldaña worked for the Department of Labor Employment and Training Administration .
Saldaña then began law school at Southern Methodist University in Dallas and earned her J.D. there in 1984. She then clerked for federal District Judge Barefoot Sanders, who oversaw the desegregation of Dallas schools.
Saldaña went into private practice in Dallas in 1985, first at the firm of Haynes and Boone, where she worked on communications and employment law; and then, for 11 years, at Baker Botts, where she was a trial attorney. Beginning in 1999, Saldaña took five years off to raise her son. She did run for judge in 2002, but fell short in the voting.
When she did return to the courtroom, it was as an assistant U.S. attorney in Dallas in 2004. Saldaña was part of the office's fraud and public corruption unit and in 2009 helped handle a corruption scandal involving Dallas city officials charged with bribery and extortion in connection with affordable housing contracts. She saw Mayor Pro Tem Don Hill sent away for 18 years.
When President Barack Obama took office in 2009, he had a chance to appoint the U.S. attorney in Dallas. Saldaña, a Democrat, had the backing of Republican Senators John Cornyn and Kay Bailey Hutchinson, but not of the Texas Democratic congressional delegation. Some suspect Democrats withheld their support because of the conviction of Hill. It took 2½ years, but Obama finally nominated Saldaña for the job and she was easily confirmed.
Saldaña's husband (her third), Marine veteran Don Templin, is a retired attorney. They married in 1988. They are members of the First Unitarian Church of Dallas. One of her sisters, Marisela Saldaña, was a district court judge in Corpus Christi and is currently a visiting judge.
-Steve Straehley
To Learn More:
Statement before the U.S. Senate Committee on Homeland Security and Governmental Affairs (pdf)
Senate Committee on the Judiciary Questionnaire
Obama Selects Corpus Christi Native Sarah R. Saldaña for Federal Agency (by Trish Choate, Corpus Christi Caller Times)