Director of U.S. Citizenship and Immigration Services: Who is Alejandro Mayorkas?
Saturday, September 25, 2010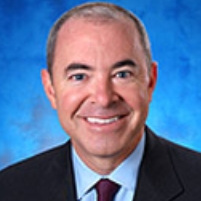 Mayorkas was co-captain of the Beverly Hills High School tennis team and president of his junior class. He earned his Bachelor of Arts in history from the University of California at Berkeley (1981), and his JD from Loyola Law School (1985).
From 1996 until 1998, he served as chief of the office's General Crimes Section, where he trained and mentored other assistant U.S. Attorney new hires. Among his more high-profile cases was the prosecution of Hollywood madam Heidi Fleiss for money laundering and tax evasion. While Fleiss was in prison, the E cable channel ran a show that claimed Fleiss had cooperated with federal narcotics agents as an informant, a revelation that, if true, would have put her in great danger with her fellow prisoners. After the show aired, Mayorkas called the prison and told the authorities there that the accusation was false, thus saving Fleiss.
In 1998, on the recommendation of Democratic Senator Diane Feinstein of California, President Bill Clinton appointed Mayorkas the U.S. Attorney for California's central district, making him, at age 39, the youngest U.S. Attorney in the nation at that time. During his last year at this post, he received unfavorable media coverage for his role in the decision by Clinton to commute the prison sentence of high-level cocaine dealer Carlos Vignali. Vignali's father, Horacio Vignali, was a campaign contributor to Democratic politicians.
Mayorkas and his wife, Tanya, have two daughters, Giselle and Amelia.
-Noel Brinkerhoff, David Wallechinsky