Director of the U.S. Patent and Trademark Office: Who Is Michelle K. Lee?
Saturday, November 22, 2014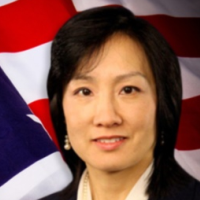 On October 16, 2014, President Barack Obama nominated Michelle K. Lee, an engineer and attorney, to be the head of the U.S. Patent and Trademark Office (USPTO) in the Department of Commerce. If confirmed, Lee would be the first woman to be USPTO Director.
Lee, a first-generation Chinese-American, grew up in Saratoga, California, in Silicon Valley, where she has spent most of her life and trained 16 years in classical ballet. Her father was an engineer in the semiconductor industry. Michelle was also interested in electronics—having built a TV set as a child—and went to college at the Massachusetts Institute of Technology (MIT), earning a B.S. in electrical engineering and an M.S in computer science there in 1989. She did some work at MIT's Artificial Intelligence Laboratory and at Hewlett-Packard Research Laboratories.
After finishing her thesis early, Lee took some classes at Harvard Law School and became interested in the law. She then went to Stanford Law School because of its reputation in intellectual property law and received her J.D. in 1992 after serving as editor of the Stanford Law Review.
She clerked for federal District Court Judge Vaughn Walker after graduation and worked on the Microsoft-Apple copyright case. The following year, she clerked with appeals court judge Paul Michel.
Lee worked for the firm of Keker & Van Nest from 1994 to 1996 and then moved to the Silicon Valley firm of Fenwick and West, first as an associate and later as a partner. There, she worked primarily with technology companies on issues of licensing, intellectual property, litigation, employment, and corporate matters.
In 2003, Lee went to work for Google as its deputy general counsel and head of patents and patent strategy. She advised the search engine giant on its acquisition of YouTube, participation in the Nortel patent auction and on mobile phone patent issues.
Lee left for government service in 2012 to head the newly opened Silicon Valley outpost of the USPTO. With that move coming during the government sequester, when funding for new expenditures was difficult to come by, she worked a deal to have the office housed in the building with the San Jose City Hall.
She was named the USPTO's deputy director in January 2014 and has led the office since then. Part of her responsibilities will be to put the office back on course after a controversy in which patent examiners were found to have abused telework assignments, engaging in fraud involving the hours they actually worked.
Lee is married.
-Steve Straehley
To Learn More:
Silicon Valley Counsel: Google's Michelle Lee (by Erik Larsen, Law 360)
High Technology Consortia: A Panacea for America's Technological Competitiveness Problems (by Michelle K. Lee and Mavis K. Lee, Berkeley Technology Law Journal) (pdf)